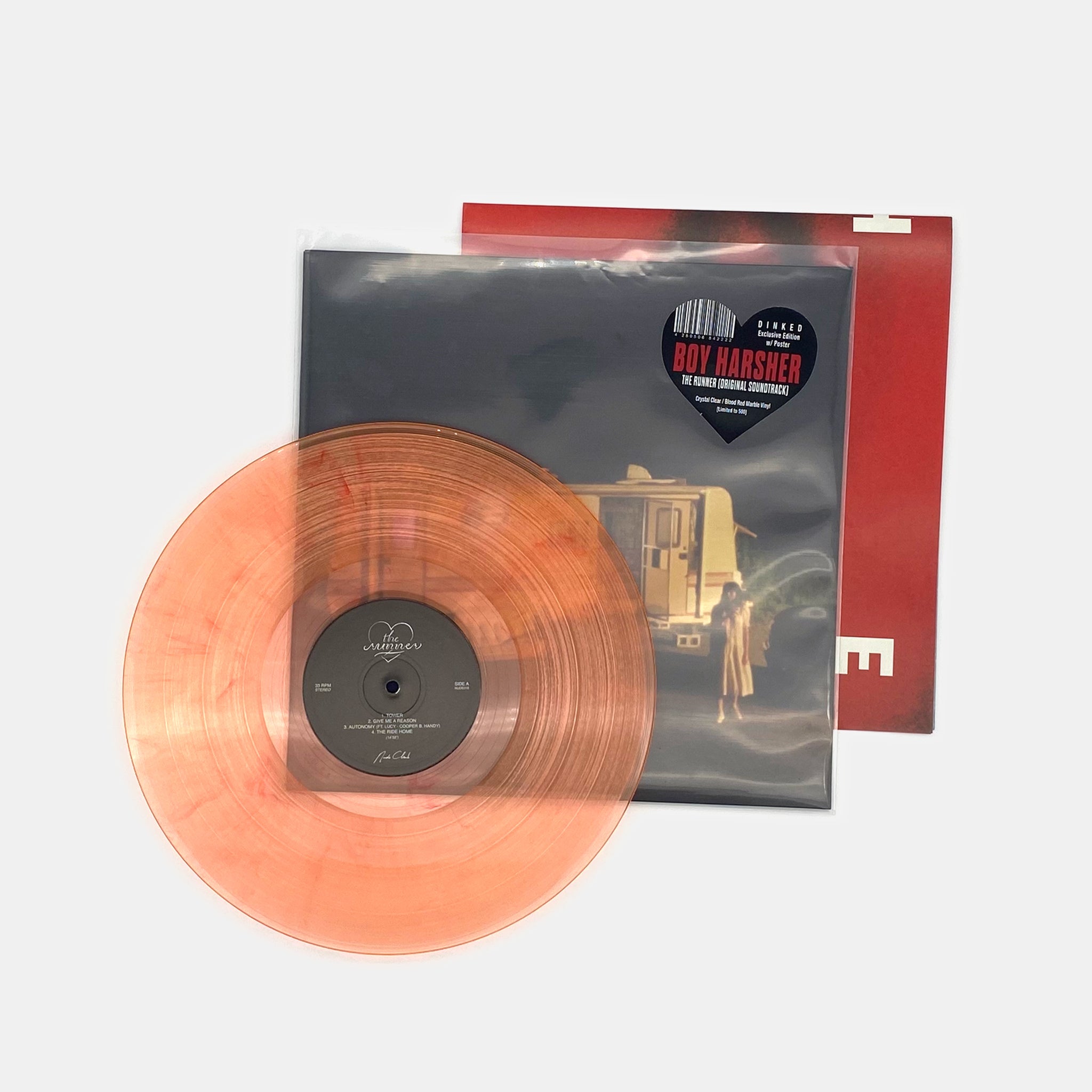 Boy Harsher - The Runner [Original Soundtrack]
This product is available on pre order with a limited discounted price.
Description

Boy Harsher's latest release, 'The Runner (Original Soundtrack)', is an exorcism.

Augustus Muller and Jae Matthews' fifth release entitled 'The Runner (Original Soundtrack)' is not a traditional album. Rather, it is the soundtrack to a short film, also entitled 'The Runner'. The film, written, produced, and directed by the duo, is a searching horror film, attached to a meta-style "documentary" about Boy Harsher's recording process. 

Dinked Edition 154
+ 140g Crystal Clear / Blood Red Marble vinyl *
+ 'The Runner' exclusive movie poster designed by midnight-marauder.com
+ Hand-numbered sleeve *
+ Limited pressing of 500 *
+ One Per Person

* Dinked Edition EXCLUSIVE

The album includes several distinct components: cinematic arrangements, vocal features, and of course classic Boy Harsher dark pop. Both the album and short film will be released in January 2022.

Last year, in the midst of the obvious chaos (the global pandemic), but additionally with Jae's MS diagnosis, Augustus started working on moody, cinematic sketches. It was uncertain what these pieces would become, other than catharsis. In Jae's period of convalescence, she kept thinking about this sinister character: a woman running through the woods. Together, they developed this idea further into a film. They were unable to tour, a drastic (and isolating) shift in their career, and making 'club music' did not feel right. But there was so much they needed to get out. The next Boy Harsher release would be a reconciliation of this time. The album processes feelings of universal anxiety and the confrontation of at home illness. A necessary expulsion during a time of unrest.

The album opens with "Tower". The only track on 'The Runner (Original Soundtrack)' that Boy Harsher has previously played live but never recorded. The song is an incantation, with its pulsing synth and Jae's begging vocals. A spell about desire and impending destruction. Jae asks 'But are you honest? Do you trust? You trust in me?' Questions answered by her desperate yells. It starts both the film and the soundtrack with a heavy presence.

Two songs on 'The Runner (Original Soundtrack)' feature vocalists other than Jae Matthews. He allows a distinct sound for both vocalists and really leans into the possibility of divergent genres. "Machina", is a HI-NRG homage, performed by Mariana Saldaña of Boan, and "Autonomy" a new wave tribute, performed by Cooper B. Handy of Lucy. Augustus Muller fully embraces the soundtrack ethos, by creating fictional 'bands' to generate additional content.

'The Runner (Original Soundtrack)' is exactly what's in the name: a soundtrack. At first, the shape of the release was nebulous - yet once realized the album is dynamic. It serves as the story of the running figure and her musical accompaniment. Those expecting a traditional release will be surprised, but not disappointed.


+ Indie LPs are pressed on crystal clear vinyl.
Release Info

Release Date: 21st January 2022
Format: LP or CD
Label: Nude Club
Pre Order FAQ
When is this released?

Boy Harsher - The Runner [Original Soundtrack] is available for Pre Order now and has a scheduled release date of 21st January 2022.

In the event of any delays to this date, we will try to keep this page updated in the '⚠ Updates' tab.
When will I get it?

We ship pre order items to arrive with you on or as close as possible to release day.

Please note; If you make a purchase from Drift that includes both Pre Order titles and in-stock titles, we will ship your entire order as one when all items are released. Read More.
What is the discount?

Usually between 10-15%. This will revert to full RRP during the week of release.