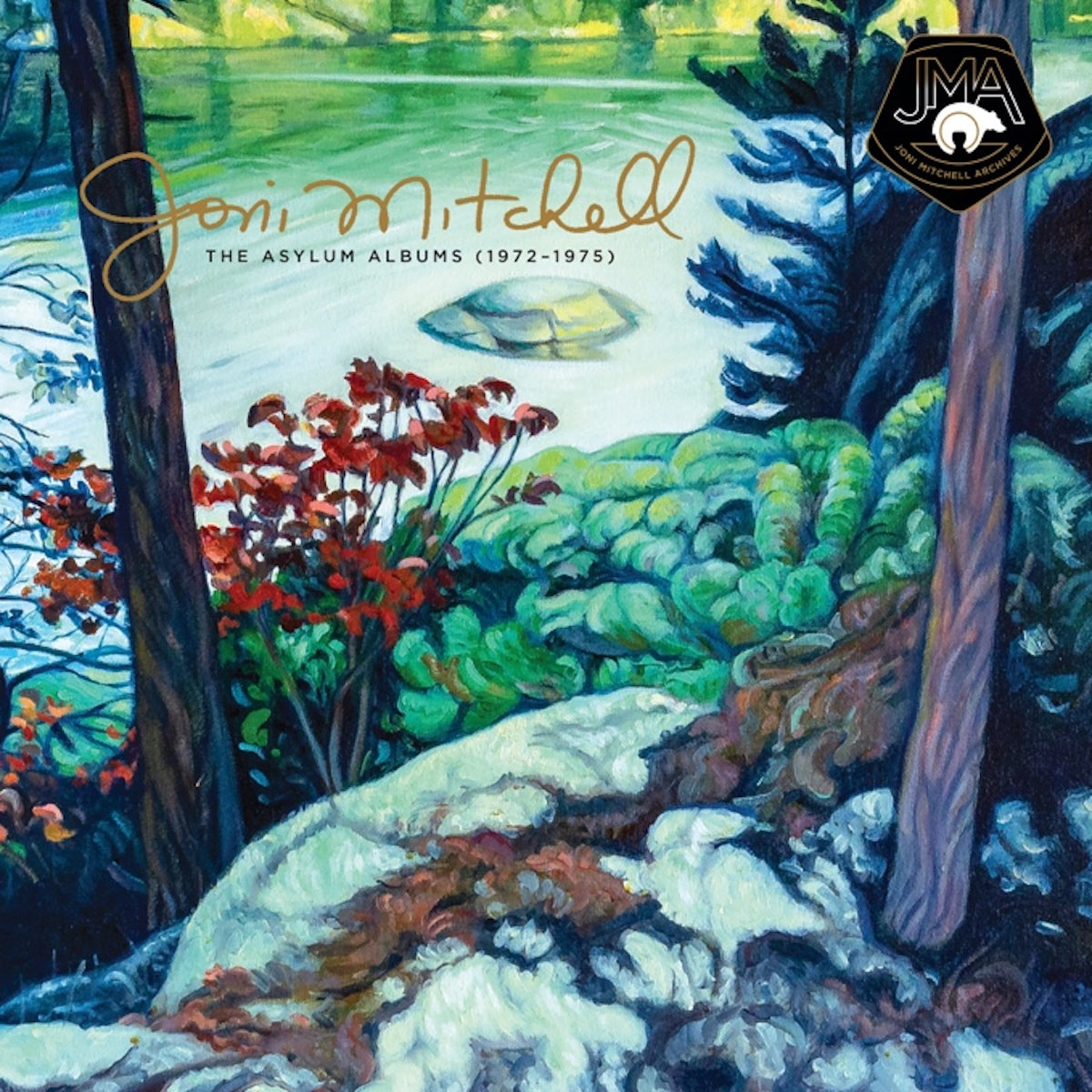 Joni Mitchell - The Asylum Albums [1972-1975]
Description

Joni Mitchell was at a turning point 50 years ago. After making four acclaimed albums with Reprise Records, including her 1971 masterpiece Blue, she left the label to join the brand-new Asylum Records in 1972. Over the next seven years, Mitchell would record some of the most acclaimed music of her career while changing her musical direction by adding more jazz elements into her song writing. The evolution culminated in 1979 with Mingus, her collaboration with jazz titan Charles Mingus, and her studio last album for Asylum.

The Asylum Albums (1972-1975), the next instalment in the Joni Mitchell archive series, explores the beginning of that prolific era. The collection features newly remastered versions of For The Roses (1972), Court And Spark (1974), the double live album Miles Of Aisles (1974), and The Hissing Of Summer Lawns (1975). All four were recently remastered by Bernie Grundman. The Asylum Albums (1972-1975 will be available on 23rd September on 5-LP 180-gram vinyl (Limited Edition Of 20,000) and as a 4CD set. The cover art for the set features a previously unseen painting by Mitchell. The set also includes an essay by friend and fellow Canadian Neil Young.

The Asylum Albums (1972-1975), follows Mitchell's musical evolution over four albums as she embraced more jazz-inspired pieces and moved away from the folk and pop of her early years. It includes essential tracks like her first Top 40 hit, "You Turn Me On, I'm A Radio" and her highest-charting (#7) single "Help Me," plus favourites like "Free Man In Paris," "Raised On Robbery" and "In France They Kiss On Main Street." Mitchell has been intimately involved in producing the collection, lending her vision and personal touch to every element.
Tracklisting

Side A
1. Banquet (2022 Remaster)
2. Cold Blue Steel And Sweet Fire (2022 Remaster)
3. Barangrill (2022 Remaster)
4. Lesson In Survival (2022 Remaster)
5. Let The Wind Carry Me (2022 Remaster)
6. For The Roses (2022 Remaster)

Side B
1. See You Sometime (2022 Remaster)
2. Electricity (2022 Remaster)
3. You Turn Me On I'm A Radio (2022 Remaster)
4. Blonde In The Bleachers (2022 Remaster)
5. Woman Of Heart And Mind (2022 Remaster)
6. Judgement Of The Moon And Stars (Ludwig's Tune) [2022 Remaster]

Side C
1. Court And Spark (2022 Remaster)
2. Help Me (2022 Remaster)
3. Free Man In Paris (2022 Remaster)
4. People's Parties (2022 Remaster)
5. Same Situation (2022 Remaster)

Side D
1. Car On A Hill (2022 Remaster)
2. Down To You (2022 Remaster)
3. Just Like This Train (2022 Remaster)
4. Raised On Robbery (2022 Remaster)
5. Trouble Child (2022 Remaster)
6. Twisted (2022 Remaster)

Side E
1. You Turn Me On I'm A Radio (Live) [2022 Remaster]
2. Big Yellow Taxi (Live) [2022 Remaster]
3. Rainy Night House (Live) [2022 Remaster]
4. Woodstock (Live) [2022 Remaster]

Side F
1. Cactus Tree (Live) [2022 Remaster]
2. Cold Blue Steel And Sweet Fire (Live) [2022 Remaster]
3. Woman Of Heart And Mind (Live) [2022 Remaster]
4. A Case Of You (Live) [2022 Remaster]
5. Blue (Live) [2022 Remaster]

Side G
1. Circle Game (Live) [2022 Remaster]
2. People's Parties (Live) [2022 Remaster]
3. All I Want (Live) [2022 Remaster]
4. Real Good For Free (Live) [2022 Remaster]
5. Both Sides Now (Live) [2022 Remaster]

Side H
1. Carey (Live) [2022 Remaster]
2. The Last Time I Saw Richard (Live) [2022 Remaster]
3. Jericho (Live) [2022 Remaster]
4. Love Or Money (Live) [2022 Remaster]

Side I
1. In France They Kiss On Main Street (2022 Remaster)
2. The Jungle Line (2022 Remaster)
3. Edith And The Kingpin (2022 Remaster)
4. Don't Interrupt The Sorrow (2022 Remaster)
5. Shades Of Scarlett Conquering (2022 Remaster)

Side J
1. The Hissing Of Summer Lawns (2022 Remaster)
2. The Boho Dance (2022 Remaster)
3. Harry's House/Centerpiece (2022 Remaster)
4. Sweet Bird (2022 Remaster)
5. Shadows And Light (2022 Remaster)
Release Info

Release Date: 23rd September 2022
Format: LP
Label: Rhino