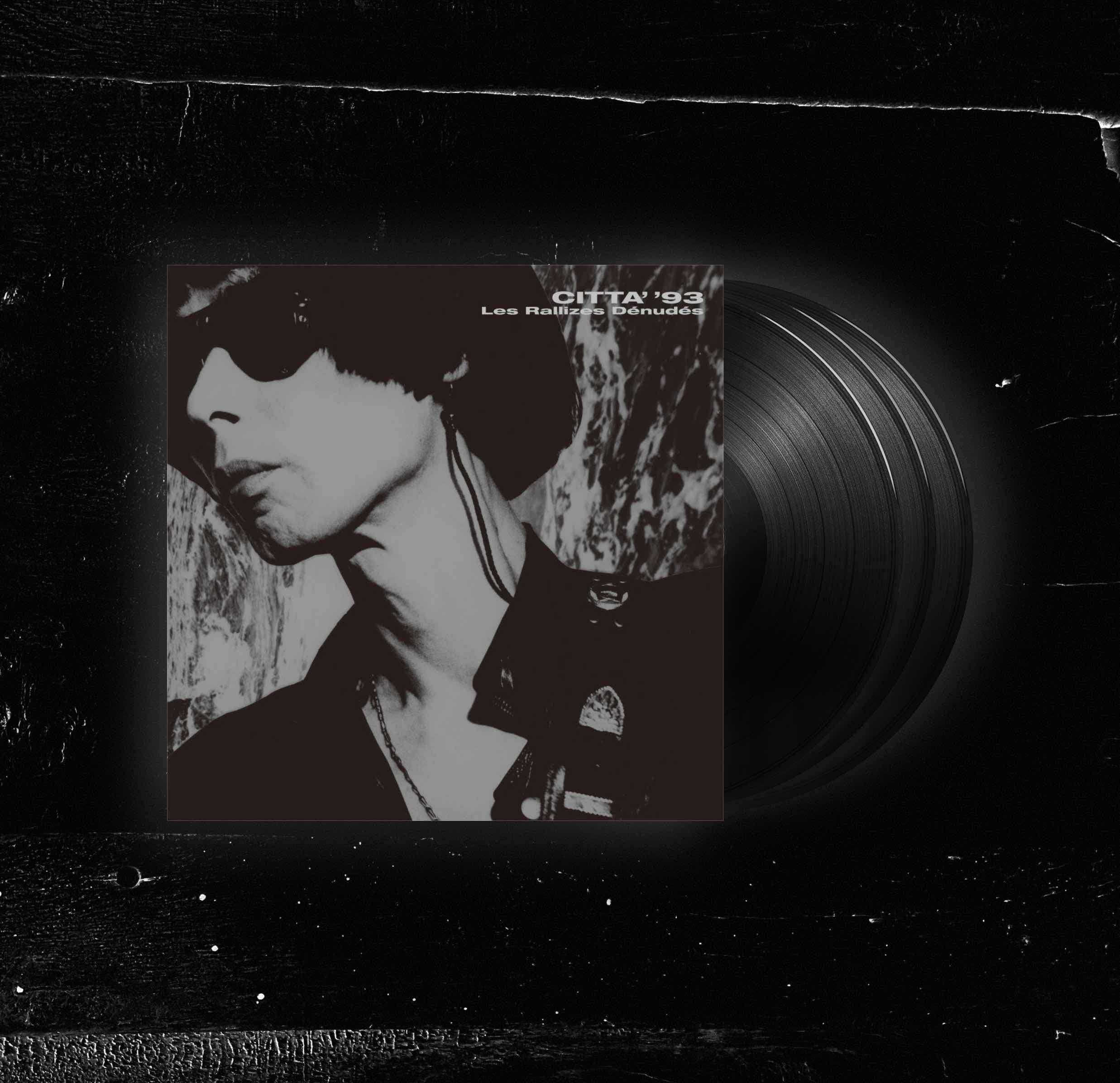 Les Rallizes Denudes - CITTA' '93
This product is available on pre order with a limited discounted price.
Description

In 1991, Les Rallizes Denudes released three full length albums on CD, the band's first-ever recordings to be made available since their formation in Kyoto more than two decades prior. In 1993, the band appeared in front of an audience for the first time since 1988.

Their February 17 appearance at Club Citta', which came four days after their "comeback" gig at Baus Theater, turned out to be one of the most notable out of all the Rallizes performances thus far. The show has been talked about in some circles as the stuff of legend. With guitars roaring at colossal levels, even surpassing the immense volume of their earlier gigs, the doors were vibrating as some audience members were said to have run out to the lobby to find respite from the sonic assault.

This shattering (in almost a literal sense) performance, in its entirety, was recorded and preserved on a 8-channel digital recorder. Discreetly kept in storage for thirty years, these multi-track masters form the basis of CITTA' ʻ93, a brand new album that accurately captures the transcendental roar that shook the walls of the venue in Kawasaki that one night. Carefully and sympathetically mixed by former Rallizes member Makoto Kubota, CITTA' '93 presents a Rallizes sound that has never before been heard in any official capacity.

The Rallizes lineup that night consisted of Takashi Mizutani (vocals, guitar), Katsuhiko Ishii (guitar), Yokai Takahashi (bass), Kodo Noma (drums). Album jacket artwork features photography by Takehiko Nakafuji; liner notes by Shinya Matsuyama.

Editions

+ Mixed from the original multitracks by Rallizes member Makoto Kubota.
+ Official recording fully authorized by The Last One Musique.
+ Photos by Takehiko Nakafuji.
+ Liner notes by Shinya Matsuyama
+ 3LPs in a tri-fold jacket with insert.
+ 2CDs housed in a gatefold wallet.

Tracklisting

1. 夜、暗殺者の夜 / The Night, Assassin's Night
2. 記憶は遠い / Memory is Far Away
3. 夜より深く / Deeper Than the Night
4. 永遠に今が / Eternally Now
5. 白い目覚め_1993 / White Awakening_1993
6. 鳥の声 / Bird Calls in the Dusk
7. Darkness Returns 2
8. The Last One_1993
Release Info

Release Date: 27th October 2023
Format: 3LP or 2CD
Label: Temporal Drift
Pre Order FAQ
When is this released?

Les Rallizes Denudes - CITTA' '93 is available for Pre Order now and has a scheduled release date of 27th October 2023.

In the event of any delays to this date, we will try to keep this page updated in the '⚠ Updates' tab.
When will I get it?

We ship pre order items to arrive with you on or as close as possible to release day.

Please note; If you make a purchase from Drift that includes both Pre Order titles and in-stock titles, we will ship your entire order as one when all items are released. Read More.
What is the discount?

Usually between 10-15%. This will revert to full RRP during the week of release.