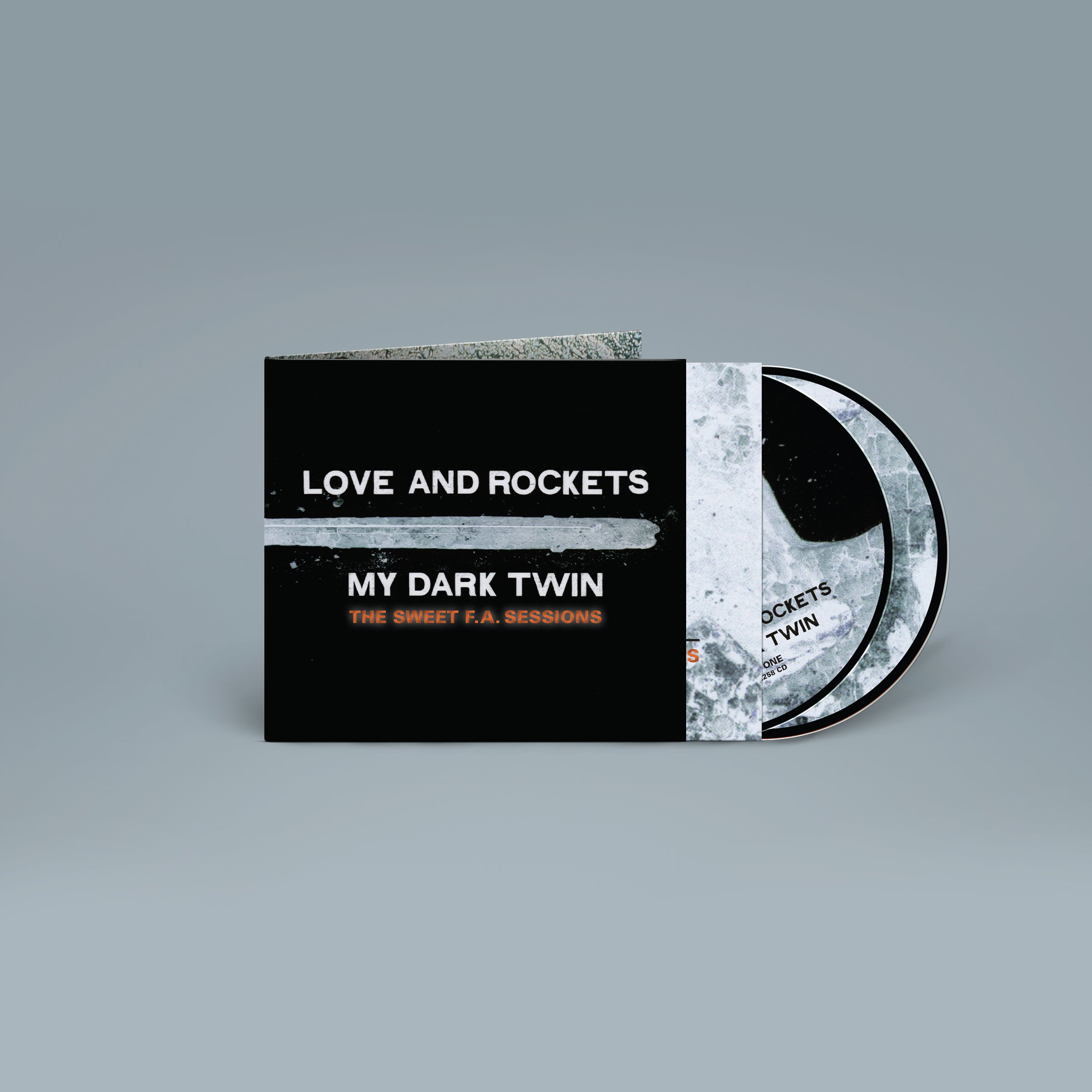 Love and Rockets - My Dark Twin
Description

The 22 track double CD release contains 8 previously unreleased versions, and 6 unreleased songs from the Sweet F.A. sessions, and 18 of the 22 tracks are on CD for the very first time.

The band began recording the follow-up to Hot Trip To Heaven at San Francisco's Coast Recorders with Andy Taub at the helm. These initial sessions proved fruitful and produced many quality recordings. Despite the great tracks, it was determined by all that the essential spark just wasn't there. Rick Rubin suggested a new studio and a new producer. Producer John Fryer came on board and took Andy Taub's recordings to Chipping Norton studios and deconstructed them, adding an "English" edge to the Coast recordings.

The band also recorded some additional, but ultimately unused tracks at Chipping Norton including an improvisation of Mink DeVille's "Spanish Stroll". The band brought these tracks back to California and due to lack of funds, were offered full use of Rick Rubin's possibly haunted 1919 Laurel Canyon mansion to stay and rehearse in and ideally come up with more material that American Recordings felt was needed in order to complete the record.

What was recorded at Rubin's place was done so onto Kevin Haskins' portable DAT machine, and thankfully he took them home with him every night, as a massive fire broke out while they were there. They lost all of their gear, some of their demo recordings, and nearly their lives as well.
Editions

"U. O. ME." is a spontaneous, improvised jam between Love and Rockets and Genesis P. Orridge. Though it's raw, rough and unrehearsed, and not a studio-quality recording, the compilers felt compelled it was important to include.

"California (Have A Nice Apocalypse!)" has a few guest musicians that apparently just happened to be hanging around, including Chuck Prophet on guitar, Bruce Kaphan (American Music Club) on pedal steel and Steve Carter on piano. It was recorded in a single take at the end of a very long and productive day.

"Spanish Stroll" is a spontaneous, loose cover version of the 1977 Mink DeVille classic, taped on an old boombox.
Tracklisting

Disc One
1. The Fever (First Version) *
2. That's Progress +
3. Sweet Lover Hangover (Edit)
4. Bomber's Moon +
5. Words of a Fool (First Version) *
6. Libido Talking +
7. Pearl (First Version) *
8. Shelf Life (First Version) *
9. Sad And Beautiful World (First Version) *
10. Returning +
11. Ritual Radio
12. U. O. ME. +

Disc Two
1. The Glittering Darkness
2. California (Have A Nice Apocalypse!) +
3. Butterfly
4. Venus Child
5. Here Come The Comedown (Rough Mix) *
6. Pick Yourself Up
7. Sweet F. A. (Rough Mix) *
8. Sweet Lover Hangover (Remix)
9. My Dark Twin
10. Spanish Stroll %

* previously unreleased version
+ previously unreleased song
% previously unreleased cover
Release Info

Release Date: 9th June 2023
Format: 2CD
Label: Beggars Banquet