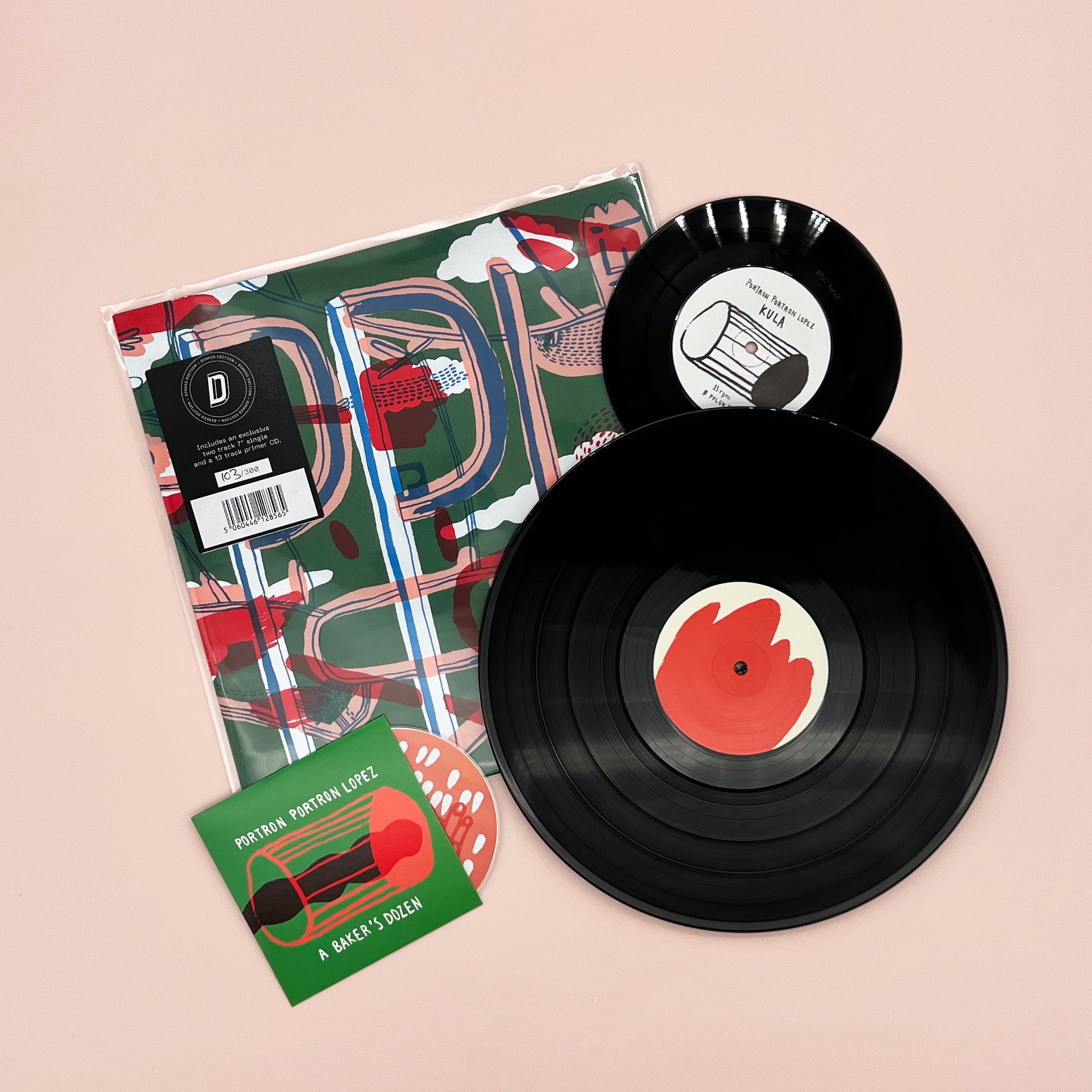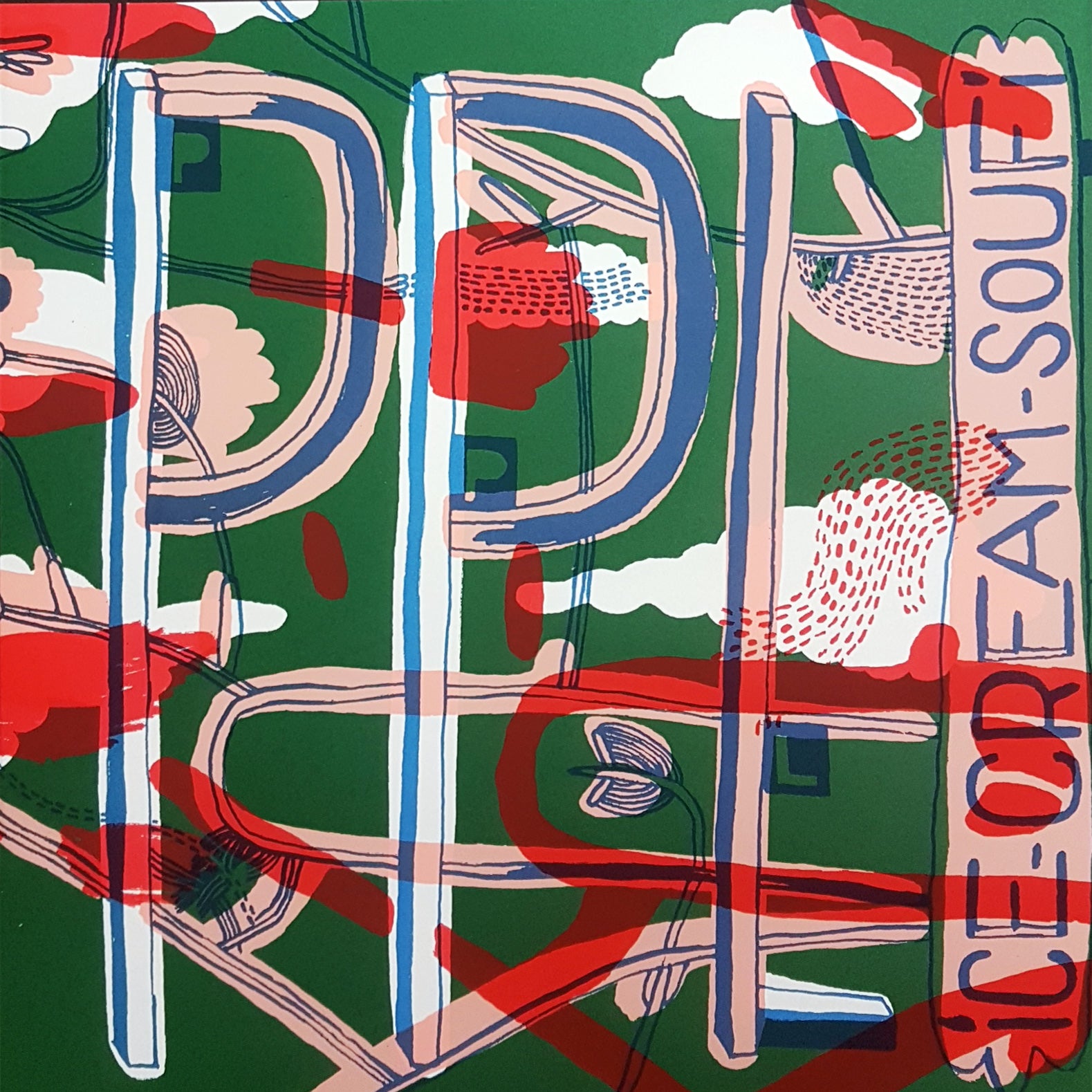 Portron Portron Lopez - Ice Cream Soufi
Description

Coming on like a mutation of all the wild and tempered instrumentation of the Dirty Three in full flow, the ambling and meandering yet intense desert rock of Scenic via a long and delightful trawl around the mountain tops of the Mediterranean coastline… evocative and exhilarating music that pulls you along for the ride!! although an instrumental record, this album is as joyous as some of the most rambunctious and rowdy pop albums you're ever likely to hear.

"One of us once came in with a guitar riff he'd made alone at home and asked the band to play it the way he composed it. The result was a disaster!"

Portron Portron Lopez don't do concepts. There are no great discussions about where they should pull their influences from, or pre-planning about how to structure studio work. The Parisian-formed trio exist in spontaneity, a creative co-habitancy that relies on feel and groove – as evidenced on their three studio albums to-date. Exploratory odysseys that bely the potential pitfalls an improvisational-minded group might fall into during the recording process, they've moved between shades of psychedelia and Middle Eastern-inflected drones as well as more electronic and club-based touchstones, doing so in a way that feels effortlessly free. That sense of adventure is furthered still on forthcoming album Ice Cream Soufi.


"We need exploding ideas that allow us to build tracks that we can emotionally convey onstage" they say. "It's not about being a concept band, but about striking ideas that make sense. It's not 'our music' we're making - it's transposing who we are into music."


Portron Portron Lopez were formed in 2011 in Paris by guitarists and brothers Marceau and Valentin Portron. High school friend and drummer Lucas Lopez joined after a two-day long improvisation session in a Parisian wine bar. He left after two records – 2012's beguilingly Beefheart-meets-Afrobeat set of tracks on Uh!, and 2015's similarly acid-fried Moi Aussi J'ai Des Amis Qui Font Du Bruit – but his position was taken by Olivier Kelchtermans. The Belgian artist had contributed to PPL's previous studio recordings as a saxophonist but switched to behind the kit in time for the 2016 tour dates and then the 2018 release De Colère et d'Envie's mix of lo-fi hypnagogia and proto-punk recalling mayhem.

Ice Cream Soufi certainly doesn't eschew all the chaos of that record, but the seven tracks that make up the group's fourth LP lean further into their penchant for cross-pollination across globally inspired styles. Opener Comment Vas-Tu Rossignol's roots are in western Iran and a recording Valentin made there of local musicians playing in the ethnographic museum of Sanadaj. The material served as inspiration for the resulting track, which leans on Kurdish folk style and structure while the trio whip themselves into a sense of frenzy around it.
Editions

Dinked copies are signed by the band.

+ Dinked Edition 189
+ Black vinyl LP
+ Alt colour (green) screen-printed sleeve *
+ Bonus 13 track CD, "A Bakers Dozen" *
+ Bonus vinyl 7" of two unreleased tracks *
+ Hand-numbered *
+ 300 copies *
+ One Per Customer

* Dinked Edition EXCLUSIVE
Release Info

Release Date: 20th May 2022
Format: Dinked or LP
Label: PL Records