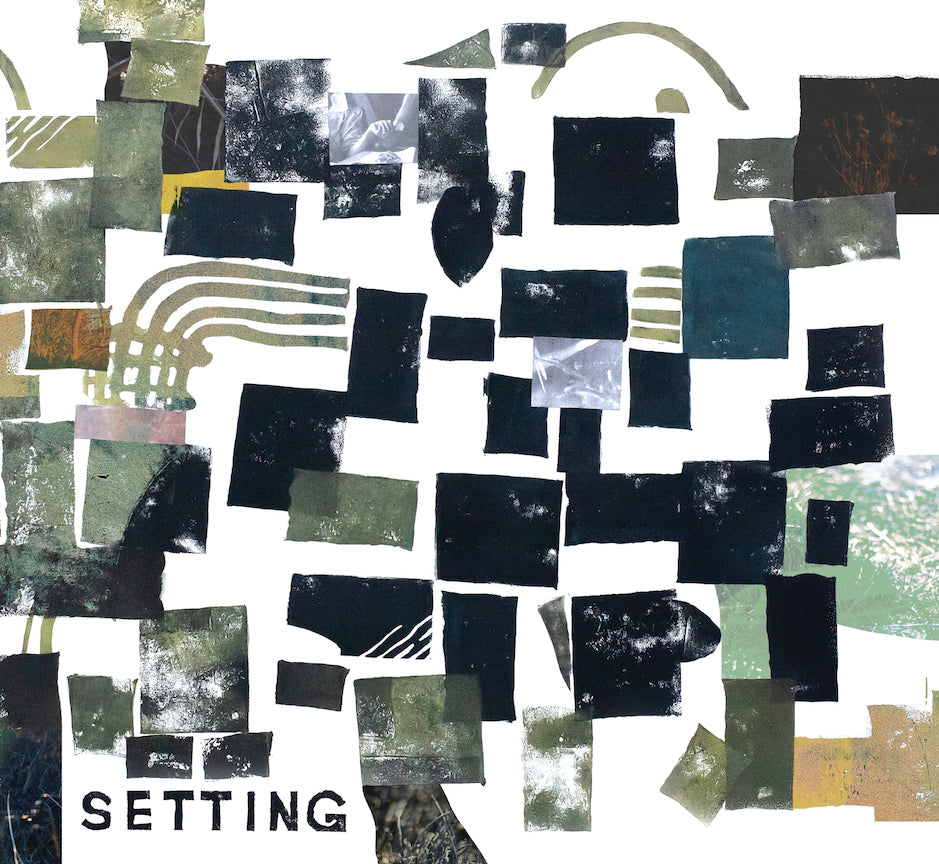 Setting - Shone a Rainbow Light On
Description

The debut recording by Setting, a trio comprising Nathan Bowles (solo/trio, Pelt, Black Twig Pickers); Jaime Fennelly (Mind Over Mirrors, Peeesseye); and Joe Westerlund (solo, Califone, Sylvan Esso, Jake Xerxes Fussell).

Setting, befitting its name which can be read as noun or verb, and simultaneously suggests the sun, or any star in the firmament from our earthbound perspective; a story and its surroundings, its scenic context or mise en scène; or a psychedelic experience, as in the prescription to mind one's "set and setting" arose outdoors, uncontained and unconstrained by architecture. The group's debut recording Shone a Rainbow Light On traverses textural, phosphorescent topography with a certified organic folk-engine. Kosmische correspondences are inevitable and valid, but also somewhat deceptive, given this meditative music's terrestrial rootedness in the familiar natural world, more in native humus and humidity than in outer space.

Fueled by a vibratory hybrid of acoustic and electronic instrumentation, these four stately longform pieces sound like a UFO slowly sinking into a peat bog (or, as we call it in North Carolina, a pocosin).

An instrumental trio comprising Nathan Bowles (solo/trio, Pelt, Black Twig Pickers) on strings, keys, and percussion; Jaime Fennelly (Mind Over Mirrors, Peeesseye) on harmoniums, synthesizers, and piano zither; and Joe Westerlund (solo, Califone, Sylvan Esso, Jake Xerxes Fussell) on drums, percussion, and metallophones, Setting established its own setting and found its footing in regularly scheduled improvisational sessions outside Westerlund's home in Durham, North Carolina, beginning in 2021. The three players began as two, in the context of occasional Bowles and Westerlund percussion duo performances dating back to 2018. Fennelly provided the initial impetus to gather and play together with intentionality and discipline, as well as an harmonic adhesive and thickening agent in the grain and gravity of his harmonium and synthesizer. As always, Bowles's background as a pianist and drummer informs his approach to banjo, imparting a woodiness, a piney verticality and resinous tang. Westerlund's training with Milford Graves is apparent in his polyrhythmic flow and its correspondences to human circulatory and corporeal rhythms. They recorded their collective discoveries with engineer Nick Broste in the spring of 2022. The record begins, like the group's name, and like the language of its unique instrumental interplay, with ambiguous grammar: "We Center," the first and longest track at thirteen and a half minutes, builds patiently to a percolating climax of tidal heaving, with ceremonial connotations. "Zoetropics," the shortest piece, follows, offering a more diaphanous counterpoint to the density of its predecessor. The zithery, shivering "A Sun Harp," its title redolent of Sun Ra, showcases Westerlund's unfettered drumming, which skitters restlessly until anchored, at its conclusion, by a minor bass progression. Finally, "Fog Glossaries" exhales through the maritime and meteorological evocations of its title, distant buoys clanging.

Although certainly elements and strategies of so-called ambient and drone musical traditions are invoked and deployed, those diffuse terms feel inadequate to describe everything else happening here: the devotion[1]al valences, the minimalist rigor, and even submarine jazz inclinations perceptible beneath the surface. Throughout this four-movement program, which invites deep listening, it is often difficult to differentiate individual instruments from the massed choir of the group's unified sonic presence. At times what sound like field recordings cicadas, birds, wind, water splash out of this slow but powerful current, only to be revealed as overtones produced by harmonium, banjo, or cymbals.
Editions

• Deluxe LP edition features 140g black virgin vinyl and a reverse board jacket with art by Timothy Breen.
Tracklisting

We Center
Zoetropics
A Sun Harp
Fog Glossaries


Release Info

Release Date: 29th September 2023
Format: LP & CD
Label: Paradise of Bachelors