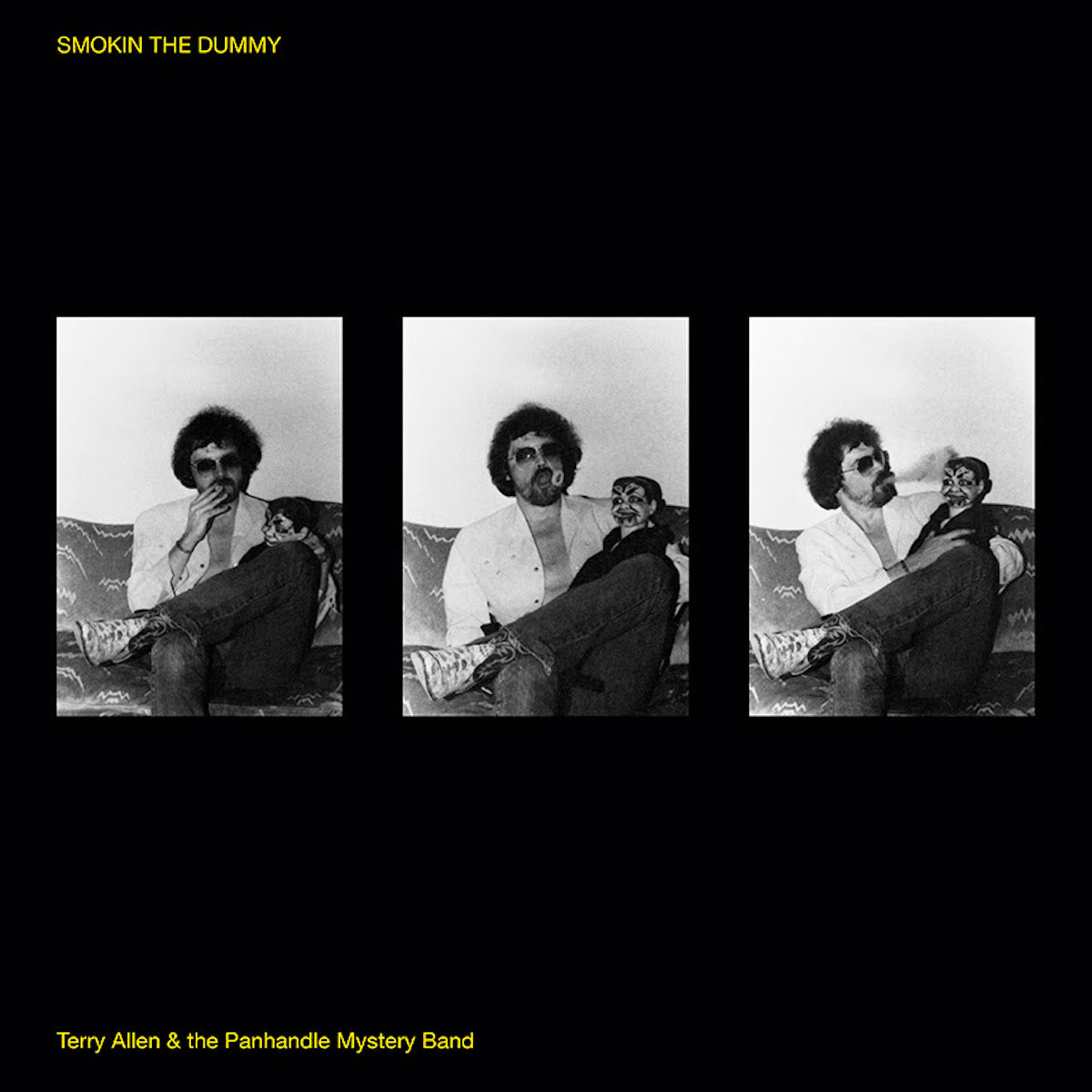 Terry Allen and the Panhandle Mystery Band - Smokin the Dummy
Description

Recorded exactly two years after acclaimed visual artist and songwriter Terry Allen's masterpiece Lubbock (on everything), the feral follow-up Smokin the Dummy is less conceptually focused but more sonically and stylistically unified than its predecessor it's also rougher and rowdier, wilder and more wired, and altogether more menacingly rock and roll.

Following the 1973 Whitney Biennial, in which songwriter and visual artist Terry Allen and fellow iconic artist Horace Clifford "Cliff" Westermann both exhibited, Allen maintained a lively long-distance correspondence and exchange of artworks and music with Westermann, whose singular and highly influential art he admired enormously. In a February 1981 letter to his friend and mentor, written shortly after the late 1980 release of his third album Smokin the Dummy, while he and his family were living in Fresno, California, Terry explains the genesis of the album title: Westermann died shortly after receiving this letter, enclosed with a Smokin the Dummy LP, the minimalist black jacket of which Allen suggested that Cliff fold into a jaunty cardboard hat if he didn't like the music. That response was unlikely, since Westermann loved Terry's music, calling his debut record Juarez (1975) "the finest, most honest and heartfelt piece of music I ever heard."

The Panhandle Mystery Band had only recently coalesced during those 1978 Lubbock sessions, Lloyd Maines's first foray into production. Through 1979, they honed their sound and tightened their arrangements with a series of periodic performances beyond Allen's regular art-world circuit, including memorable record release concerts in Lubbock, Chicago, L.A., and Kansas City. Terry sought to harness the high-octane power of this now well-oiled collective engine to overdrive his songs into rawer and rockier off-road territory.

His first album to share top billing with the Panhandle Mystery Band, Dummy documents a ferocious new band in fully telepathic, tornado-fueled flight, refining its caliber, increasing its range, and never looking down. Alongside the stalwart Maines brothers co-producer, guitarist, and all-rounder Lloyd, bassist Kenny, and drummer Donnie and mainstay Richard Bowden (who here contributes not only fiddle but also mandolin, cello, and "truck noise theory," the big-rig doppler effect of Lloyd's steel on "Roll Truck Roll"), new addition Jesse Taylor supplies blistering lead guitar, on loan from Joe Ely (who plays harmonica here). Jesse's kinetic blues lines and penchant for extreme volume were instrumental in pushing these recordings into brisker tempos and tougher attitudes. Terry was feverish for several studio days, suffering from a bad flu and sweating through his clothes, which partially explains the literally febrile edge to his performances, rendered largely in a perma-growl. (By this point, he was regularly breaking piano pedals with his heavy-booted stomp.) Like the album title itself, the songs on Smokin the Dummy ring various demented bells. The tracks rifle through Terry's assorted obsessions especially the potential energy and escape of the open road, elevated here to an ecstatic, prayerful pitch and are populated by a cast of crooked characters: truckers, truck-stop waitresses, convicts, cokeheads, speed freaks, greasers, holy rollers, rodeo riders, dancehall cheaters, and sacrificial prairie dogs, sinners seeking some small reprieve, any fugitive moment of grace.
Tracklisting

A1. The Heart of California (for Lowell George)
A2. Cocaine Cowboy
A3. Whatever Happened to Jesus (and Maybeline)?
A4. Helena Montana
A5. Texas Tears

B1. Cajun Roll
B2. Feelin Easy
B3. The Night Café
B4. Roll Truck Roll
B5. Red Bird
B6. The Lubbock Tornado (I don't know)
Release Info

Release Date: 6th May 2022
Format: LP or CD
Label: Paradise of Bachelors