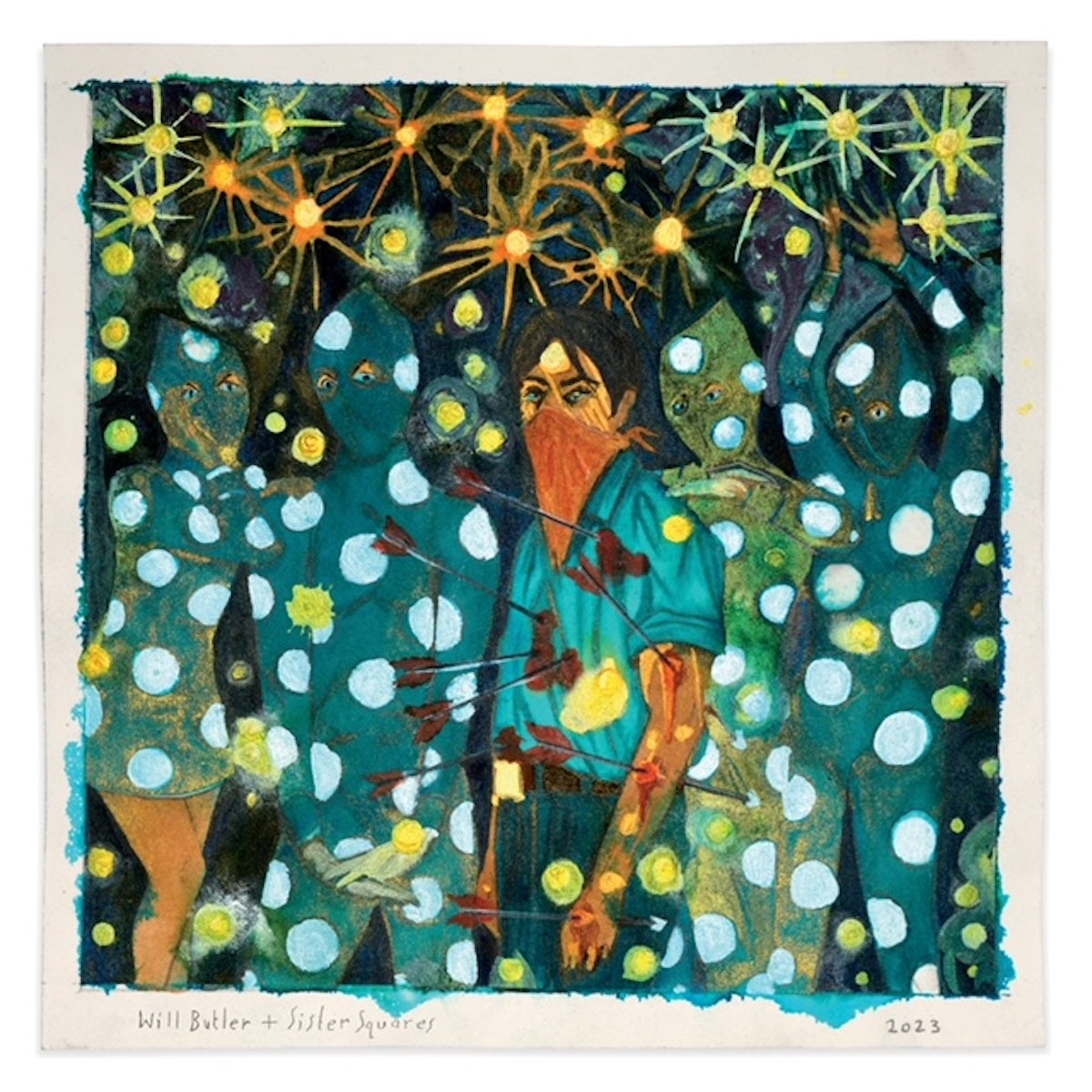 Will Butler + Sister Squares - Will Butler + Sister Squares
Description

Sara Dobbs and Jenny Shore used to work summer stock theater in St. Louis, Missouri. They'd do the hand jive with TV stars past and future; they'd get coldly corrected by the ancient, legendary choreographer Gemze de Lappe. Sara went on to Broadway, including a run as Anybodys in West Side Story. Jenny went on to choreograph in the independent dance scene of early 2000s Chicago.

+ Indie shop LP copies to include signed print.

Julie Shore is Jenny's sister. She's always made music—playing Chopin, writing songs, making bands with her friends. She's had the archetypal Millennial journey of entering adulthood in the '08 financial crisis and figuring out what stupid series of jobs you have to take to pay rent while keeping an artistic life alive.

Miles Francis grew up in New York City with Backstreet Boys posters covering their walls. An extraordinary drummer since youth, Miles thrives in collaboration— whether producing artists in their West Village studio, performing with artists like Angelique Kidjo, or powering protests with a big marching drum.

These four—Miles, Julie, Jenny, and Sara—are Sister Squares. What made them a musical unit was working with Grammy winner and Oscar nominee Will Butler. They've all just finished a new record together: Will Butler + Sister Squares.

"After Generations, I considered making a weird solo record. Me alone in the basement, etc., etc. Mostly I realised that what I wanted was the opposite," says Will. He increasingly turned to the band for feedback on lyrics and song structures. He asked Miles if they'd produce the record. The band played a run of shows in August 2022, airing out studio ideas in live rooms. After coming home, the band regrouped at Figure 8 Studios in Brooklyn.

"I had quit my band Arcade Fire very recently, after 20 years—maybe the most complex decision of my life. I had spent the preceding two years at home with my three children. I was 39 years old. I was waking up every morning and reading Emily Dickinson, until I had read every Emily Dickinson poem. I was listening to Morrissey, to Shostakovich, to the Spotify top 50. I had unformed questions with inchoate answers," says Will. "But, honestly, I was feeling great about the record."

The album projects widescreen emotional landscapes. Lead-off single "Long Grass" is like a Harry Styles song with 20 more years of life behind it. Standout track "Satur- day Night" has a beat, according to Miles, "with that robot-alien-dancing-at-a-haunt- ed-dive-bar feeling that we were going for." The back half of the album is a dance- able, weird choral record with harmonies both beautiful and dissonant. Closing song "The Window" is the comedown after the party—Julie playing a Chopin Nocturne on a three-years-out-of-tune piano, slowed to half-speed on tape with Will singing over it in a voice exactly as tired as he was. It's a record with a warm, humane soul.
Editions

+ Indie LP is blue swirl vinyl in a jacket with pot pearlescent finish. Euro sleeve with printed insert for album download.

+ Indie shop LP copies to include signed print.

+ Standard LP is black vinyl in a jacket with spot pearlescent finish. Euro sleeve with printed insert for album download.

+ CD is a wallet + printed insert.
Tracklisting

SIDE A
1. Open
2. Stop Talking
3. Willows
4. Long Grass
5. Me n My Friends 6. Saturday Night
7. Car Crash

SIDE B
8. Sunlight
9. Arrow of Time
10. I Am Standing in a Room 11. Good Friday, 1613
12. Old Year
13. Hee Loop
14. The Window
Release Info

Release Date: 22nd September 2023
Format: LP or CD
Label: Merge