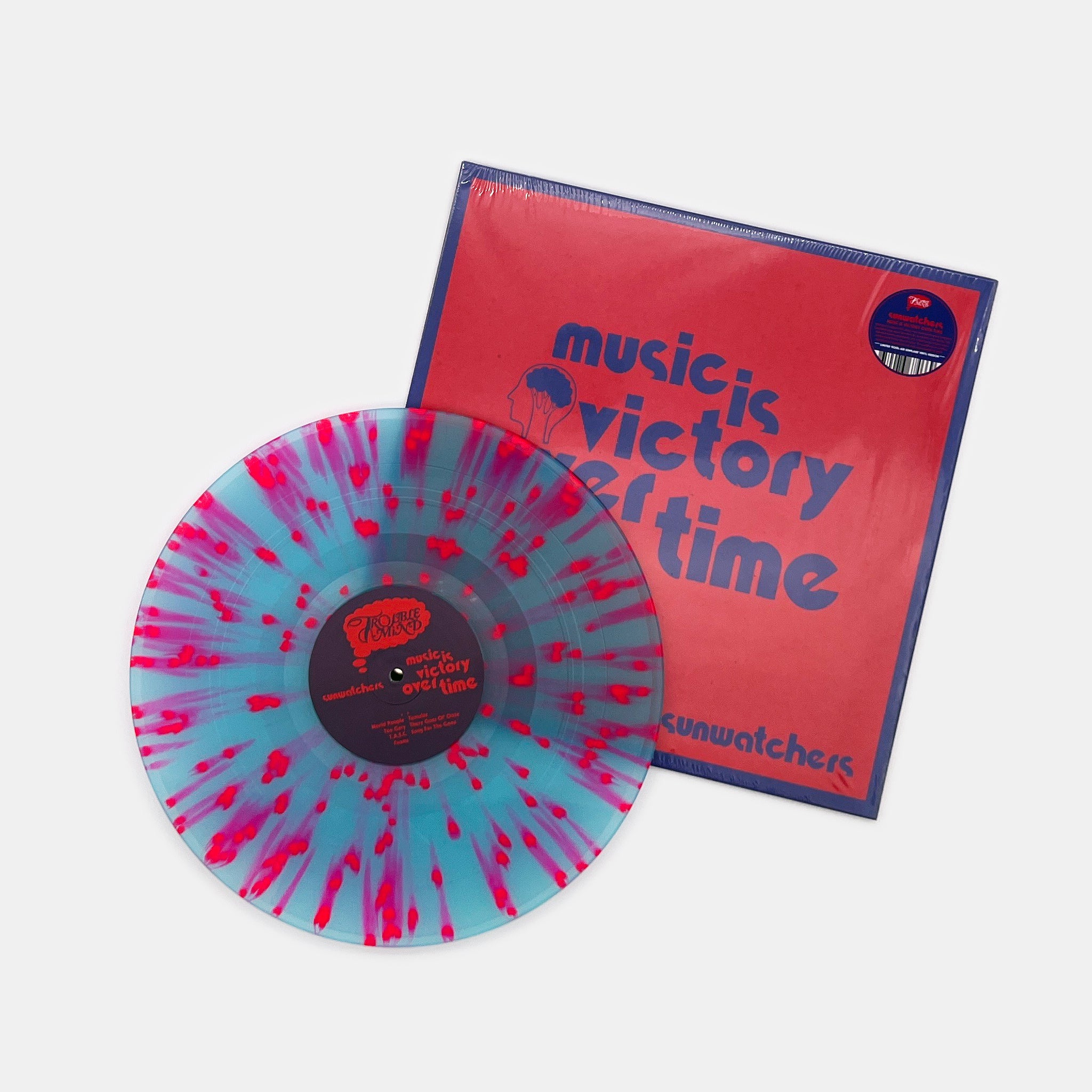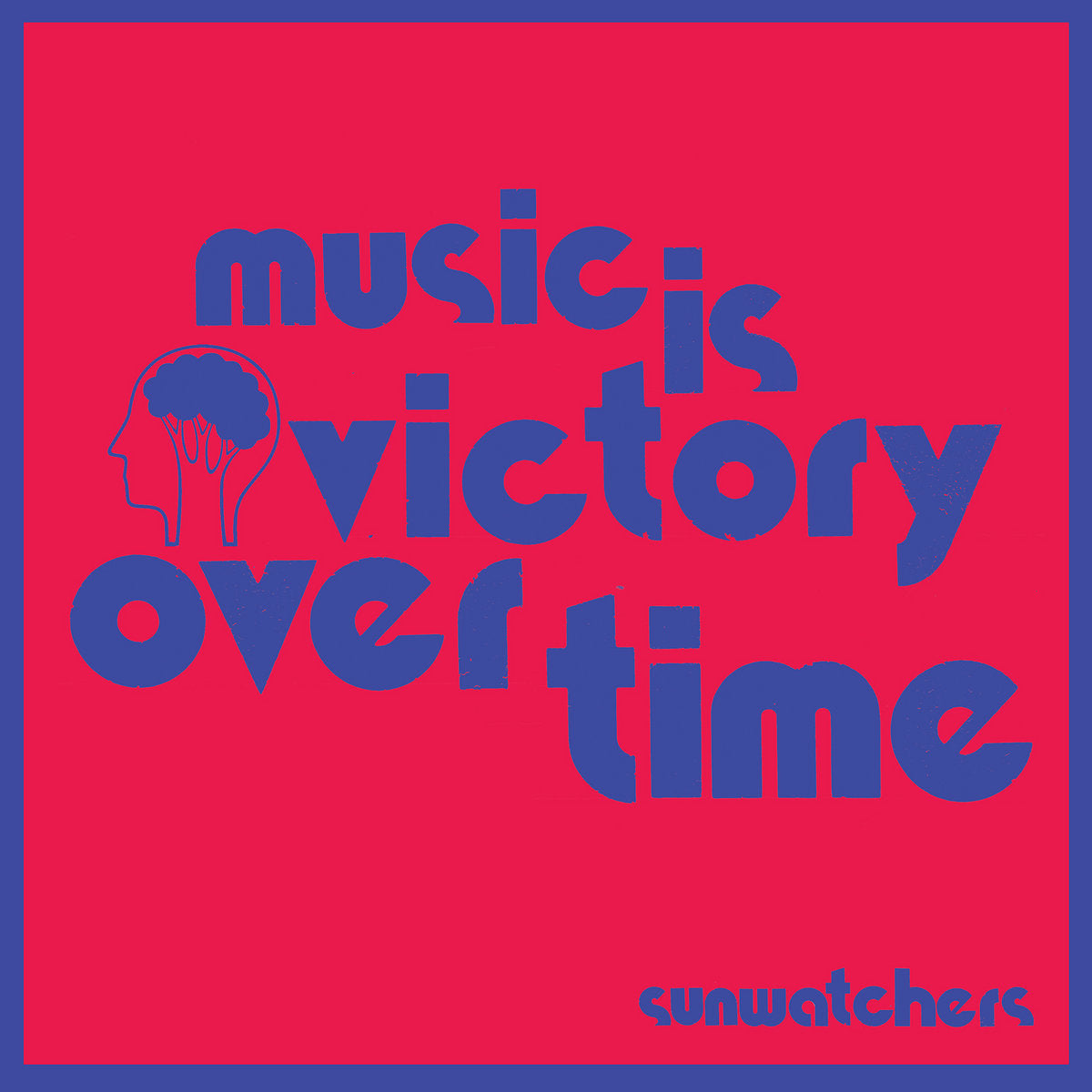 Sunwatchers - Music Is Victory Over Time
Description

In the decade or so that hard-working New York quartet Sunwatchers have operated, the group has steadily & subtly refined their sound - a brain-blasting mixture of jazz, psychedelia, krautrock, punk, noise, & Saharan blues - into something that is avant-leaning enough to appeal to the discerning jazz & experimental music fan & weird & wooly enough to get the true heads' toes tapping. "Music Is Victory Over Time" is the band's 5th album, and fourth for Chicago-based Trouble In Mind Records, seeing the long-running lineup of Peter Kerlin (bass guitar), Jim McHugh (guitars), Jason Robira (drums), and Jeff Tobias (alto saxophone and keyboards) in prime form.

Album opener "World People" is a classic Sunwatchers number whose title expresses their Anarcho-Internationalist ideology (and the atypically multi-culti make up of their crowds), with an underlying melodic resonance to New Orleans funeral marches à la Albert Ayler — a triumphant call to arms to all peoples. Live fave "Too Gary"'s gang vocal shout punctuates a motorik rager named for a phrase often uttered by a badass eight year old skateboarder McHugh knew with a speech impediment (it means "that's too scary"). "T.A.S.C." (or "Theme For Anarchist Sports Center") is inspired by Sonny Sharrock's maligned 80's output & sounds exactly like a wrathful, mutant version of a prime-time athletic show theme, replete with the requisite "sitcom ending." The sun- scorched "Foams" - a longform piece intended to depict natural stuff like tides, nightfall, and time slowly passing, ancient, peaceful and slightly gross all at once - practically jumps out of the speakers, its palpable intensity crackling in your eardrums. The title of "Tumulus" might reference an ancient burial mound, but the music itself might be the group's most high-tech song to date, complimented by an arpeggiating

sequencer, three different forms of tape delay and an electric saxophone; ecstatic, fiery & deeply spiritual. "There Goes Ol' Ooze" is a smoky creeper that lets Tobias & Kerlin take a walk for a while, with respectful nods to the Stones and Steve Reich. "Song For The Gone" closes out the album, showcasing a sincerely tender moment for the gang, as an expression of love and resolve for dear friends who had recently, tragically died. Its cascading, bluesy melody attuning itself to our own collective unconscious grief.

Having the distinct pleasure of being the first band to record in John Dwyer's new LA-based recording studio Discount Mirrors, "Music Is Victory Over Time" boasts a beefed up sound. The band worked closely with in-house engineer Eric Bauer - facilitator, troubleshooter, sonic obsessive, a legendary freak and a DIY lifer. The band also had full access to the studio's epic armory of gear: amps, axes (it's Dwyer's Eddie Harris model electric sax), synths, a bass guitar once belonging to Klaus Flouride of the Dead Kennedys. Crucial for the sounds and the vibe.

The album art was created by Josh MacPhee, the activist artist, author, archivist and founding member of both the radical artist collective Just Seeds and Interference Archive, a public collection of materials from social movements based in Brooklyn. MacPhee's participation in the project works as a statement of Sunwatchers' progressive utopian intentionality, and organically underscores their involvement in revolutionary projects within and without of their hometown. Listening to "Music Is Victory Over Time", Sunwatcher's rebellious spirit & unbridled enthusiasm remain fully intact, but the secret sauce is their infectious irreverence in the face of the horrors of this world. Much of our best cultural commentary is Trojan-horsed to the general public via humor & satire & the band has a knack for lacing the ridiculous with the radical. It's good to have them back.
Editions

• The limited BLUE/RED "Kool-Aid Sunflare" colour vinyl is for Indie shops only while supplies last.
Tracklisting

1. World People
2. Too Gary
3. T.A.S.C.
4. Foams
5. Tumulus
6. There Goes Ol' Ooze
7. Song For The Gone
Release Info

Release Date: 10th November 2023
Format: LP or CD
Label: Trouble In Mind