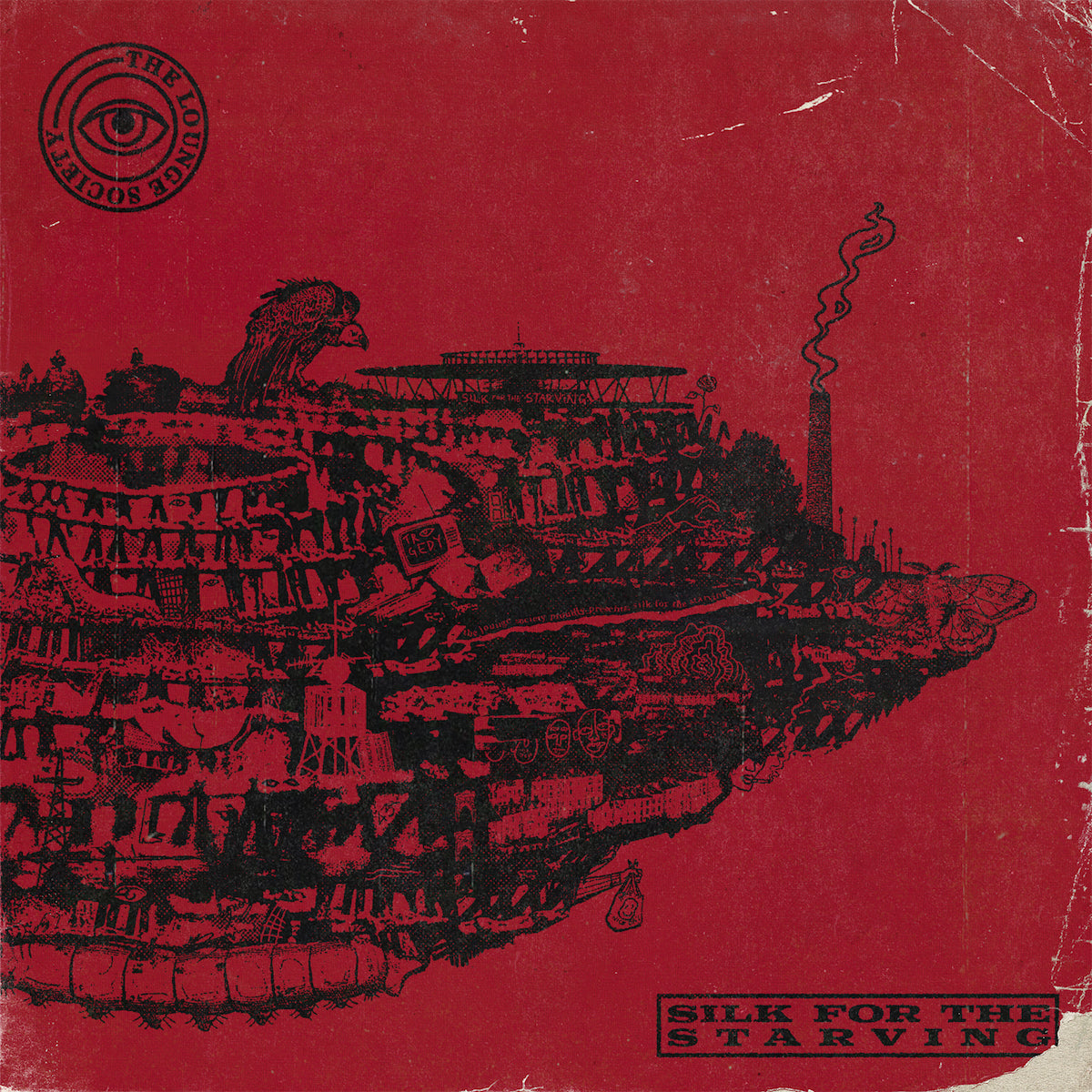 The Lounge Society - Silk For The Starving EP
Description

New post-punk teenagers and latest Speedy Wunderground singings The Lounge Society hail from in and around the Pennine towns of Hebden Bridge and Todmorden in the Calder Valley of West Yorkshire. There the rain falls two hundred days a year upon the moss-draped, post-industrial ruins, the clouds scud overhead at speed and up on the heathered moor-tops carrion crows hungrily peck at the skulls of dead sheep.

But down below, magical things are afoot. Strongholds of independent-living, Todmorden, where the quartet cut their teeth, is known for its abundance of magic mushrooms and as the UFO-sighting capital of Britain, while four miles down the road, the steep-sided hippy idyll of Hebden Bridge has been called "a drug town with a tourist problem". Either way, this stretch of valley 25 miles from the centre of Manchester in which the band operate is the type of backwater that is attractive to outlaws of various varieties, as well as artists, writers and all- round miscreants for whom life in the city or the suburbs is just a little too straight. In Calderdale, culture is allowed to breathe.

More recently the valley has enjoyed a musical renaissance centred around the venues of The Trades Club and The Golden Lion, a movement that some have glibly dubbed "the Calderfornia sound", and which has recently spawned Working Men's Club and The Orielles….and now The Lounge Society. "Growing up 5 minutes down the road from both venues has been hugely influential for us," they say. "Sneaking in the back door when we were 14 years old and having to keep our heads down in order to watch The House Of Love or Peter Hook was the making of us."


Like any musical movement worth its salt, it's not one that the bands themselves might willingly admit to being a part of, yet there must be something in the water. For while their contemporaries deal in jangle pop and contemporary rave, The Lounge Society – who met at their local high school in nearby Mytholmroyd (otherwise famous as the birth-place of poet Ted Hughes) - explore something more raucous. It's a sound shot through with the adrenalised and undeniable youthful surges that informed both proto- and post-punk, with The Velvet Underground, Talking Heads and Fat White Family cited as shared influences. On their debut EP Silk For The Starving there's a rawness which belies a self-assured songwriting slickness that is almost alarming for four teenagers.


In tracks such as 'Cain's Heresy' and their pulsing, paranoid reverb-laden debut single 'Generation Game' (released as a limited edition seven-inch on Speedy Wunderground in March 2020) there's a sense of the anthemic too. The latter track, with its "What will the US do?" tag-line was bursting with so many ideas it was split over two sides of the same piece of vinyl. One reviewer remarked on it being a collision of Beta Band ambition, Fat Whites rabble-rousing and early Roxy Music sheen.

Little wonder they were spotted and swiftly signed to the UK's coolest and best small indie label (an accolade Speedy Wunderground officially won at the AIM Awards) in late summer 2020. Speedy, less we forget, have already gifted the world with some of the best new bands of their generation: Black Midi, Squid, Warmduscher, Black Country, New Road and
others.


Recorded with producer Dan Carey (Kae Tempest, Bat For Lashes, Fontaines D.C.) as soon as Covid-10 lockdown restrictions were lifted, Silk For The Starving crackles with the type of listless, nervous energy that comes when you're teenager who has been denied all the simple pleasures in life, and you've been robbed of a precious summer that you'll never get back.


'Burn The Heather' struts with brittle A Certain Ratio/Tom Club-style funk and takes its title from the annual local ritual burning of the moor-top heather by the rich rural landowners for their lucrative grouse-shoots (and which those down in the valley blame on causing frequent flooding), while also recycling a line from a Lawrence Ferlinghetti poem. "Our lyrics are a call-to-arms for people who share our dismay at the dismal future being carved out for people like us," the band explain. "We want each line to be a brick through the window of just the right people." 


The complex spikey prog-punk arrangements of 'Television' meanwhile, most recall the band for which the song is named, but with the type of ragged groove that Happy Mondays might have stuck on for hours in their early garage days. This is music that follows a strong north-west lineage whose roots reach deep into Manchester's past, yet without ever once resorting to nostalgia. It's future-facing. Elsewhere there's plenty of sardonic sloganeering akin to Mark E. Smith were he lost in the rolling news of Twitter feeds that tell of corrupt presidents, useless Prime Ministers, race hate, rising debt, online trolls, empty celebrity culture, poisonous ideals and the general sense that the Western world is in a tailspin freefall
towards complete disintegration.


"There is an anger in the lyrics because we are angry, but we are angry at how fucked the world has become," they say. "But our anger is not just speculative. We want to do our part in setting things right, little by little, and music is a tried and tested means of doing that." If this is the case then The Lounge Society are going down swinging with a glorious soundtrack that could only be made in the here and the now. "Genocide makes for good TV!" yells Davey on 'Television', while 'Cain's Heresy' tells of "the face of a nation – bloodied and bruised". The EP's raucous closer 'Valley Bottom Fever' depicts life in a "lonely town with a lonely state of mind" and tackles the subject of the twisted mindset that takes hold when one
doesn't leave the sun-starved place in which they live often enough. In Calderdale they call it valley bottom fever.


The Lounge Society sing about what they know, then. Make no mistake, this is the sound of young England: articulate, enraged and energised. And – perhaps crucially - highly danceable too. It should give hope to anyone who has lost faith in the future, because here the future is in safe hands.
Release Info

Release Date: 18th June 2021
Format: 12"
Label: Speedy Wunderground