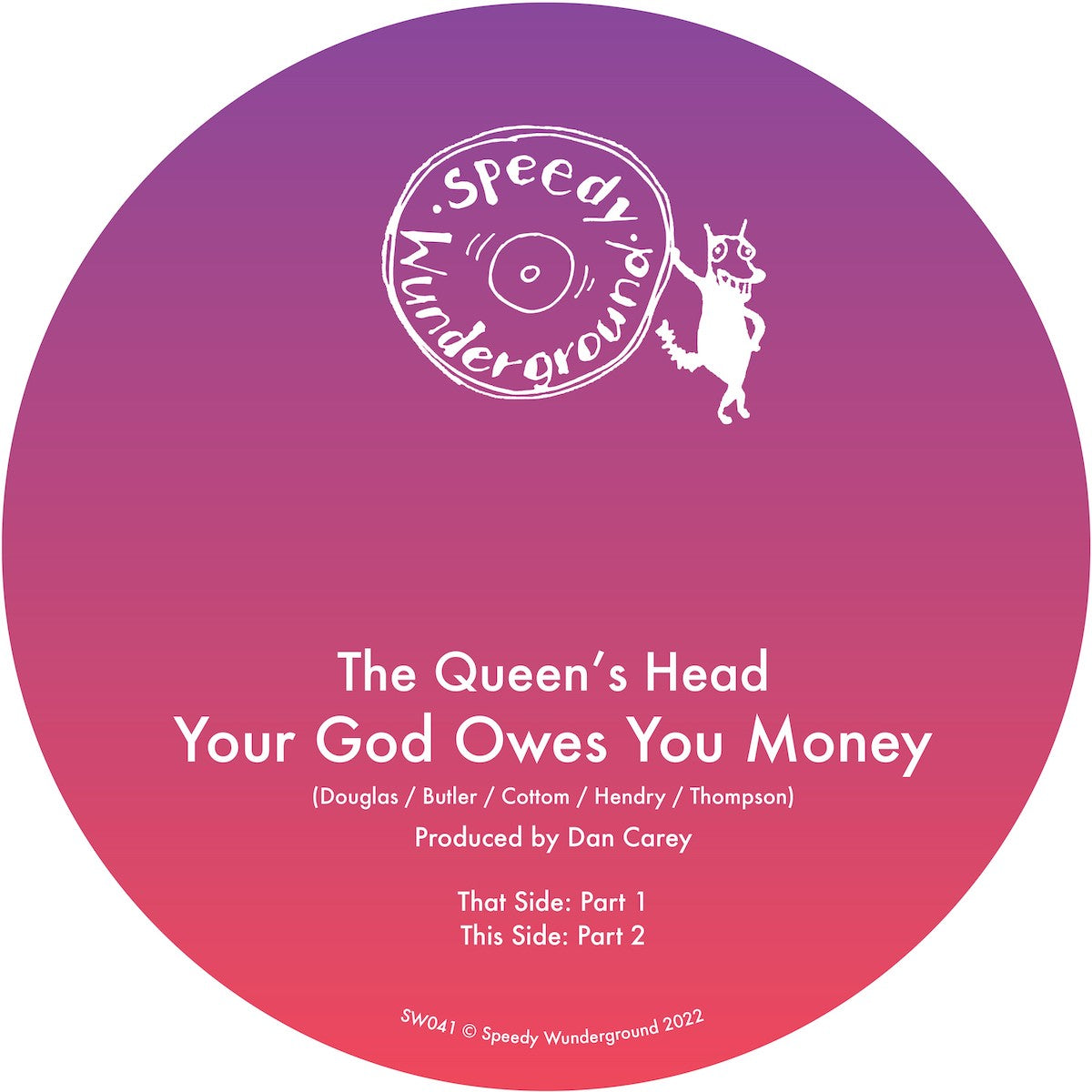 The Queen's Head - Your God Owes You Money
Description

Hot off the back of their self-titled debut single – the energetic five piece made up of Joel Douglas (vox/guitar), Tom Butler (vox/bass), Robbie Cottom (keys), Mike Hendry (guitar) + George Thompson (drum/percussion) follow it up with the provocatively titled 'Your GodvOwes You Money.'

For those unacquainted with the band's brand of esoteric eclectic pop - The Queen's Head are a five piece from South London making alternative music about modern anxieties. Blending elements of post-punk, noise-rock, disco and modern dance music, wrapped in a familiar verse-chorus pop structure, the resulting sound is simultaneously enchanting and terrifying. Ordering this giddy chaos are the dual vocals of childhood friends Joel Douglas and Tom Butler. Together they combine cutting, spoken word narratives and growling melodies which take form as vigorous, traumatised calls to arms, scriptures not as much sung but bellowed and preached to the audience.

It's a sermon. "It did feel like that" recounts Speedy co-runner Pierre Hall who put them on at one of Speedy's 'Homecoming' nights at The Social at the end of lockdown. 'From the second they came on to the second they finished – everyone was completely entranced. You were sucked in. It was powerful. Scary, intense, confrontational. But powerful nonetheless. I was hooked.'


On the resulting track – a heady mix of post-punk influences crossed with everything from The Clash to The Specials via Daniel Avery and Charlie XCX, the band say: 'We are a band interested in world-building, with our process normally meticulous, pouring over tiny production and song-writing details. Taking 'Your God Owes You Money' into Dan Carey's space and method was a deliberate attempt to disrupt our complacencies. We played live, welcomed error and followed improvised ideas, under Dan's guiding hand. The version of this song we produced in just a day hopefully captures the rage and range of our live show - a direct glimpse into the band, what we believe and our frailties as self-confessed performers. An honour, a privilege and a wholly enjoyable day amidst Dan's Aladdin's cave." 

The genie is out of the lamp.
Release Info

Release Date: 22nd July 2022
Format: 7"
Label: Speedy Wunderground