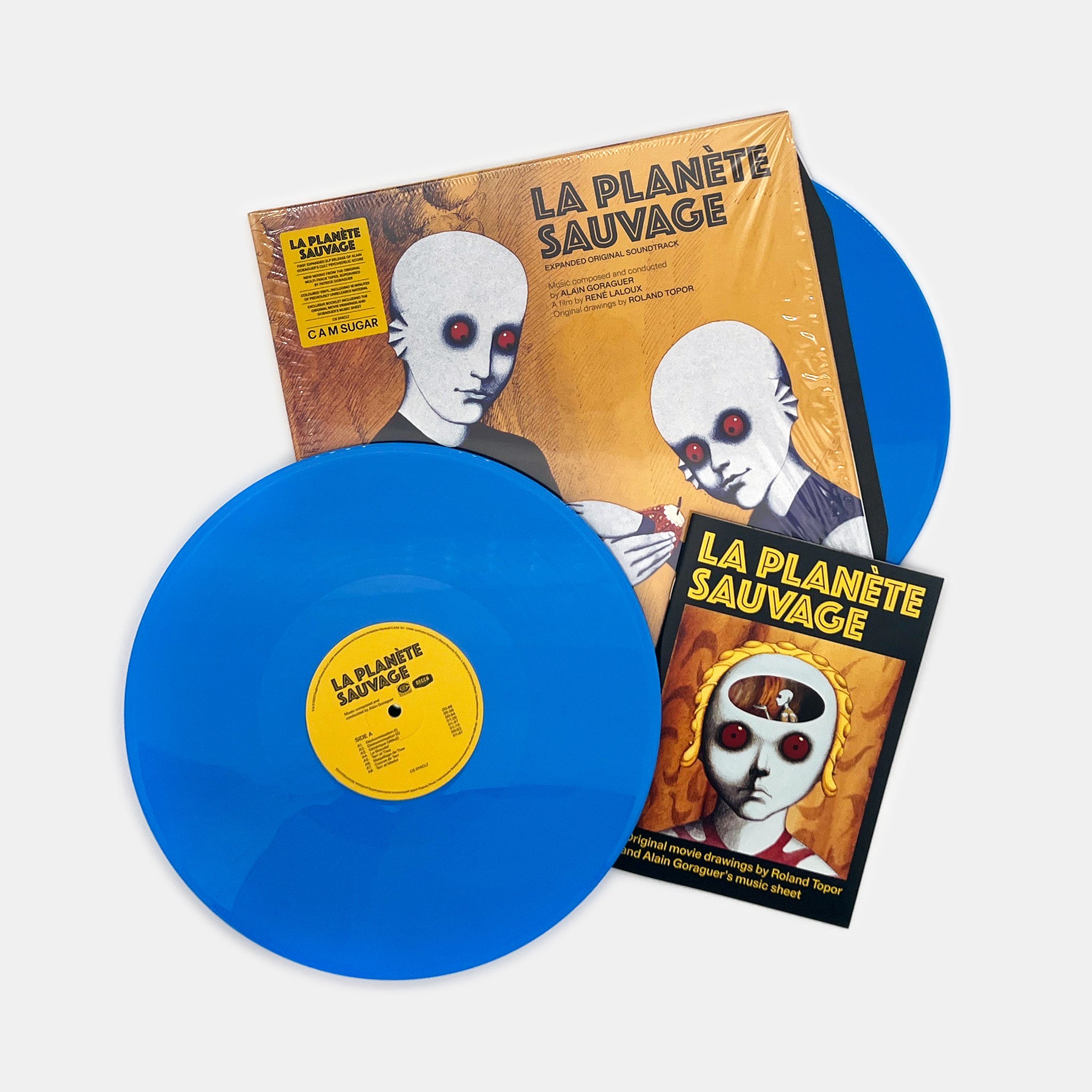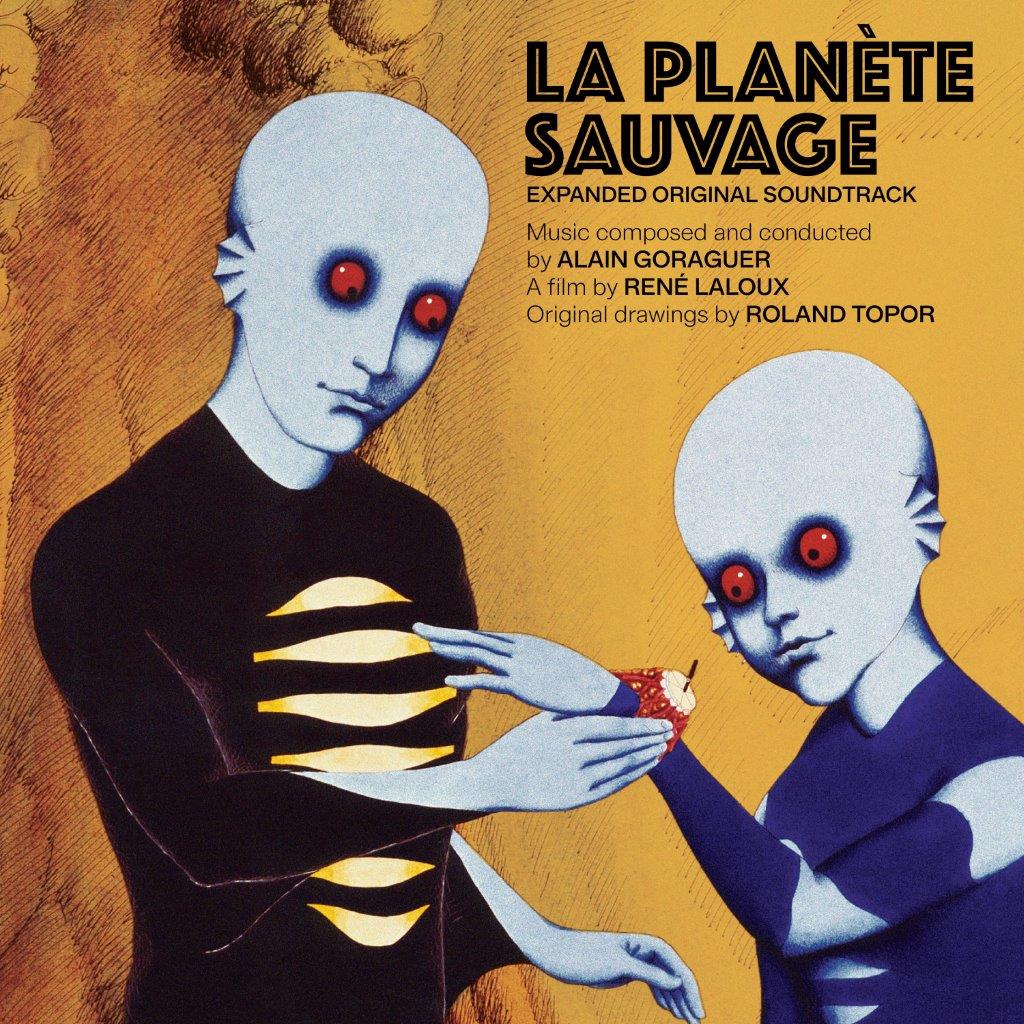 Alain Goraguer - La Planète Sauvage
Description

At the 1973 Cannes Film Festival, a feature-length animated film caused a sensation and won the Special Jury Prize: La Planète Sauvage by René Laloux, with phantasmagorical drawings by Roland Topor.

For this philosophical tale of anticipation, where men are used as domestic toys by blue giants, the Draags, the celebrated composer ALAIN GORAGUER unleashes his inspiration with a haunting main theme of great melodic clarity, soaring and hypnotic atmospheres, but also pursues funky rhythms with wah-wah on guitar, as if reaching out to Isaac Hayes from Shaft.

Over the decades, the acclaim of LA PLANÈTE SAUVAGE has been growing in crescendo, both the film and its score, revered by new generations as a psychedelic summit, an Everest of French pop. Artists from the new world, from rap and hip-hop cultures, such as A$ap Mob, Madlib, Mac Miller and many others, have dipped into it for samples or remixes.

As La Planète Sauvage celebrates its half-century, CAM Sugar presents a new deluxe edition of the soundtrack, mixed from the recently discovered multi-track tapes, including 7 previously unreleased tracks and 3 alternate mixes. Produced under the expert supervision of Patrick Goraguer, Alain's son, this is released as Deluxe gatefold 2LP (including a special illustrated zine) and CD digipack. Listening to this complete album will confirm the spellbinding power of La Planète Sauvage is intact.
Editions

• Gatefold 2LP
• Pressed on limited Blue colour vinyl.
Tracklisting

Side A
Déshominisation (I) 03'47
Déshominisation (II) 00'54
Générique (début) 00'42
Le Bracelet 01'24
Terr et Tiwa 01'45
Maquillage de Tiwa 01'14
Course de Terr 00'50

Side B
Terr et Tiwa dorment 00'45
Terr est assommé 00'42
Abite 00'49
Conseil des Draags 00'52
Les Hommes / La Grande coexistence 01'11
La Femme 02'08
Mira et Terr 00'41
Mort du Draag 00'48
L'Oiseau 02'23
La Cité des hommes libres 00'46

Side C
Attaque des robots 02'02
La Longue marche 02'11
Les Fusées / Valse des statues 02'19
Générique (fin) 02'01
Strip-tease 02'21
Méditation des enfants 01'29
La Vieille meurt 00'45

Side D (Previously unreleased tracks)
L'Appel de la liberté 01'22
Méditation alternative 01'40
Le Destin de Terr 02'08
Flore et faune 01'04
Sauvage planète 01'23
Casques 01'31
Déshominisation (II) (alternate take) 01'04
Générique (fin) (alternate mix) 02'02
Terr et Medor (alternate mix) 01'45
Déshominisation (I) (alternate mix) 03'54
Release Info

Release Date: 22nd September 2023
Format: 2LP or CD
Label: Decca
"La Planète Sauvage holds its own as a purely musical experience: a breathless, Technicolour avant-garde record of bewildering sonic and emotional scope. Lurching between far-ranging palettes, tempos, and moods, Goraguer's score remains an otherworldly adventure."
8.0