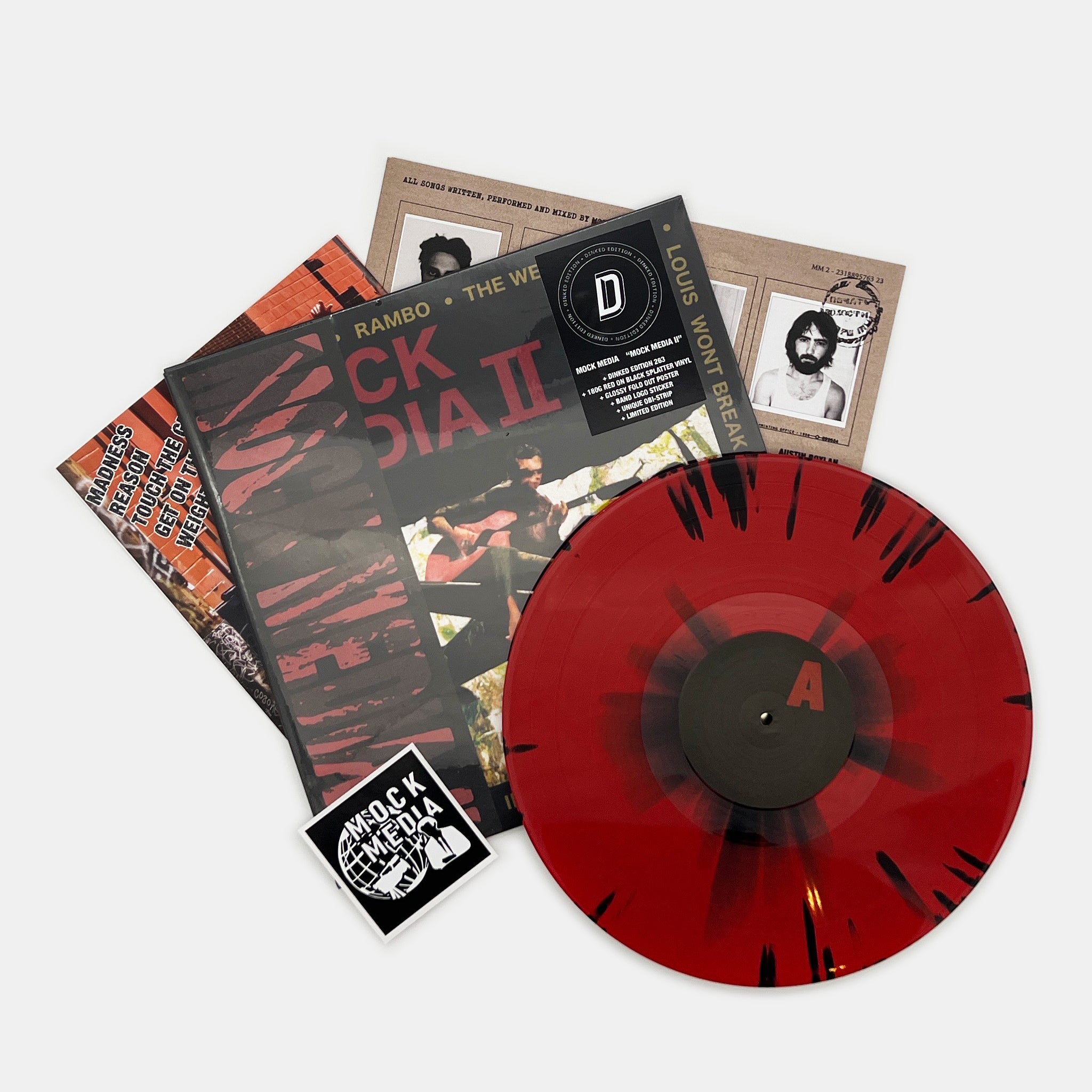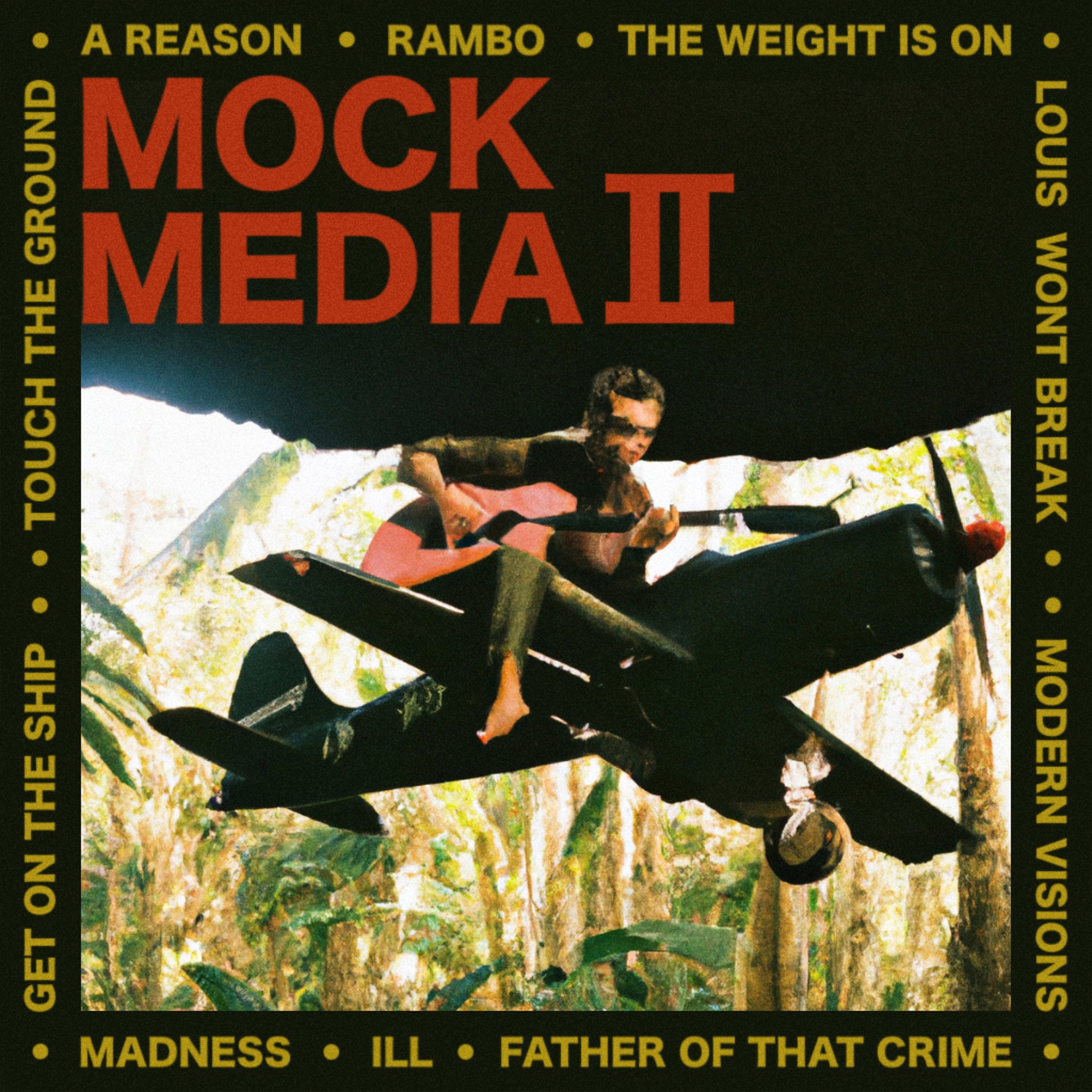 Mock Media - Mock Media II
Description

Mock Media's debut LP Mock Media II – due out on Meat Machine captures this firebrand four piece's head-on plunge into enthralling existential contradictions: songs that explore the darkest corners of humanity, yet come out at the other end with the unwavering joy that marked their genesis. It's an album of sneaky eclecticism: the high-wired punk rock stylings serve as Mock Media's framework to clad their agog explorations into pop, electronic and world folk music.

Mock Media, Canada's new supergroup, contains members: Evan Aasen, Garnet Aronyk Muhammad, Austin Boylan and Bennett Smith. Mock Media originates in Vernon, British Columbia, a small farming town surrounded by blue lakes and majestic mountain ranges. Such wholesome beginnings naturally sparked a heady wanderlust and DIY-spirit within its founding members.

The album's connective tissue is a knack for crafty, tongue-in-cheek pop melodies and the kind of plucky storytelling that chronicles the greater complexities of life – chapters where strife and survival are usually rife. The R&B-inflected "Louis wont break", for example, references Laura Hillenbrand's novel Unbroken, which tells the story of Louis Zamperini, a former Olympic track star turned fighter pilot who spent 47 days on a raft at sea and two and a half years in a Japanese POW camp.

Lead single "Madness" confidently vaults from skittish noise punk into a zany country rock anthem, the stylistic choices mediating a greater narrative on the threshold between order and chaos: "What if you struggled to feed yourself / Would you take it from somebody else?". "It's just looking at human history," Aasen comments. "Because it's been so terrible in a lot of ways. How civilized we normally are, it just takes the drop of a coin and it can turn into something real bad. And we're always kind of teetering on the edge of that. People in their own lives too: you can hit rock bottom pretty quickly, but you can also persevere."

The seething "Father Of The Crime '' – driven by Smith's frantic drumming – draws a parallel between polarization and the often reactive ways we handle relationships. Aronyk: "There's a lot of similarities between that sort of situation where somebody finds their significant other cheating on them, and the decision making process in that moment is similar to what happens when somebody is radicalized and pushed to do something crazy." Opening track "ILL", with its rumbling piano melody and Skrillex inspired synth line, littered with samples and droning horns, "ILL", addresses a clash between mob and cult mentality on the rise.

The courting of themes like violence, imprisonment, and famine isn't a voyeuristic act for Mock Media, but a deeper interrogation on where to unearth notions of triumph and empathy. Both in writing and execution, Mock Media II is an exercise of tension and release, the ease of the chemistry between the four musicians giving merit to the weight of the subject matter.

The frolicking "Rambo"– adorned by flute flourishes performed by Aronyk's mom – recites a tale of a prison hustler, the titular Rambo, and his hardships of confinement. "Modern Visions" became an inspired meshing of separate musical ideas by Aronyk and Aasen, coalescing into a more electronic pop progression that required extensive tinkering and reassessing over a four-year period. "I think that track addresses a common theme through our music," Aronyk adds. "It reflects on trying to understand violence and chaos throughout different corners of the world, and not being overcome by nihilism."

The quartet's combined creativity unravels in giddy, curious directions, cleaving like a lightning bolt through the dread. On "Touch The Ground", the band unburdens completely into sweet purgatory, taking inspiration from communal elements of Tribal music as a spiritual palette cleanser. Channeling through 1960's Country rock and sorrowful slide guitar lines, "Reason" meditates on the notion of being in love with existence, rather than a specific person. The album's grand finale of "Get On The Ship" and Akon inspired "The Weight Is On" unfold like two bookending halves of the same story, tragedy enveloped into joy, just to see how much of the latter can be salvaged.

Speaking for themselves, the weight of life, and its many detours and deviations, hasn't deterred Mock Media from engaging in more misadventures together, the tumultuous kind that comes with the territory when performing in a band. It's the requisite honeymoon phase prolonged by bad weather, or a beam of light emerging from a dark prism. To spread one's wings, the gravity below needs to be reckoned with.

Editions

• Dinked Edition 263
• 180g Red on Black splatter vinyl *
• Glossy fold out poster *
• Band logo sticker *
• Unique Obi-Strip *
• Limited pressing of 300 *

* EXCLUSIVE to Dinked Edition
Release Info

Release Date: 17th November 2023
Format: LP
Label: Meat Machine