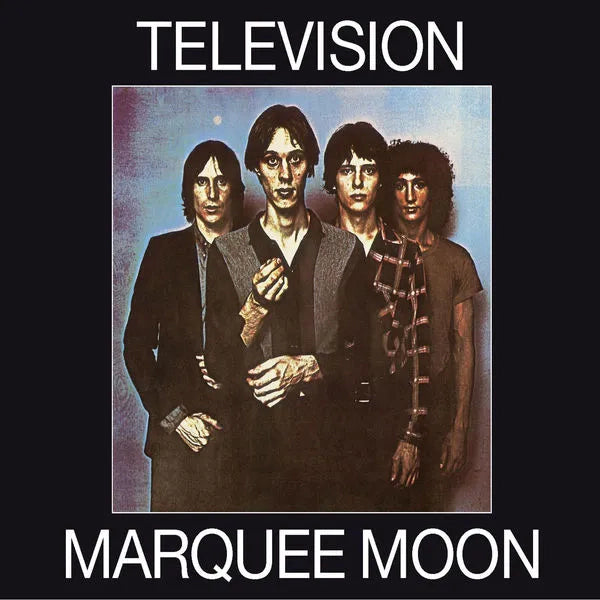 Television - Marquee Moon
This product is available on pre order with a limited discounted price.
Description

+ Limited Rocktober 2023 Ultra Clear vinyl 

 

One of the greatest albums of the American punk rock revolution, that isn't even a punk rock album. Straight out the dungeons of CBGB's, Television sculpted a new guitar sound that paved the way for alternative rock, post-punk, new wave, noise and indie (and nu-metal and art rock and grunge and so much more).

 

Tom Verlaine (vocals, guitar), Billy Ficca (Drums), Fred Smith (bass) and Richard Lloyd (Guitar) shunned the power chords of their contemporaries for intricate, entangled, back and forth guitar melodies, jazzy drumming and romantic language.

 

The album starts with See No Evil, their most urgent song on the album. A punk flavoured red herring before the dream lyrics of Venus and the jazz-blues guitars on Friction. Side A ends with the unavoidable opus, Marquee Moon, a 10 minute odyssey of urban paranoia which includes 2 guitar solos (that's longer than Free Bird by Lynyrd Skynyrd). On Side B, Guiding Light has all the building blocks of an alt-rock ballad, and Prove It is their art-rock manual.

 

Television's jaded yet impassioned attitude, high-brow yet lo-fi approach, warm yet jagged sound has gone on to influence so many that it would be a fool's errand to try to distill them into one line. Instead, stop and listen to the primary post-punk album. An album that prophesied the death of punk before it had even started (Marquee Moon came out 9 months before Never Mind The Bollocks...).
Editions

Available in limited rocktober 2023 140g ultra clear vinyl.
Release Info

Release Date: 6th October 2023
Format: LP
Label: The Drift Record Shop
Pre Order FAQ
When is this released?

Television - Marquee Moon is available for Pre Order now and has a scheduled release date of 6th October 2023.

In the event of any delays to this date, we will try to keep this page updated in the '⚠ Updates' tab.
When will I get it?

We ship pre order items to arrive with you on or as close as possible to release day.

Please note; If you make a purchase from Drift that includes both Pre Order titles and in-stock titles, we will ship your entire order as one when all items are released. Read More.
What is the discount?

Usually between 10-15%. This will revert to full RRP during the week of release.